ACT – Alsace Crus and Terroirs : 2017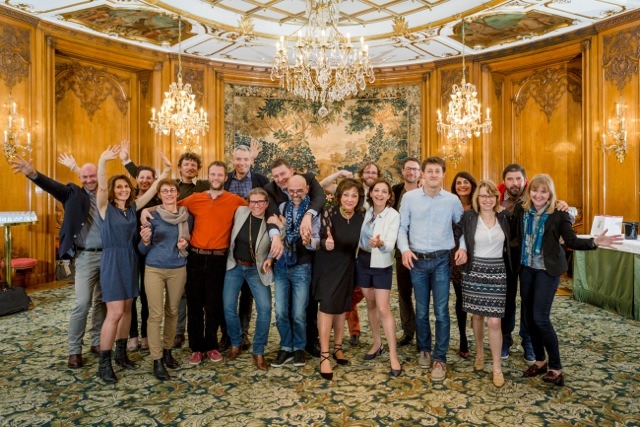 Now before we start on this one, Back In Alsace would like to emphasise that we are again "outside looking in and also inside looking in".

There was a burst of publicity when ACT got its act together in November 2015. How are things going 18 months down the line? Well, the 19 producers are still working together to make this association work and this is with a good measure of success following recent events in Paris and New York.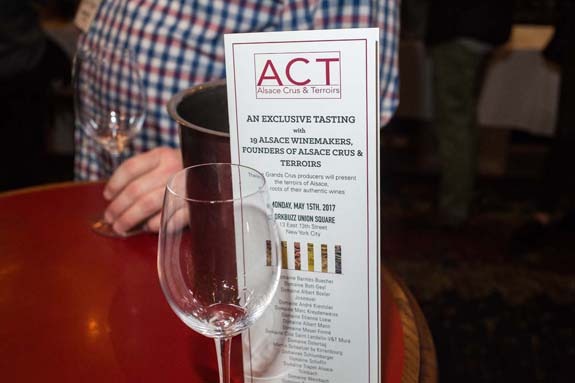 ACT was launched when initiatives by Séverine Schlumberger (Domaines Schlumberger) and Marie-Thérèse Barthelmé  (Domaine Albert Mann) were catalysed ensemble with input from Marc Rinaldi.
The initial group was set up after a series of meetings with a much wider group of producers. The winemakers, who signed up, figured out an agreement and approach on a series of common principles to drive the reputation of their wines and their domaines. These principles have been published in a charter, which we will touch on below.
Several producers have mentioned that an inspiration is the VDP across the Rhine in the German wine region. This association was founded way back in 1910 and has currently around 200 members. The VDP sets, which is sets, rather than suggests quality standards and has successfully driven the image and recognition of German quality wine.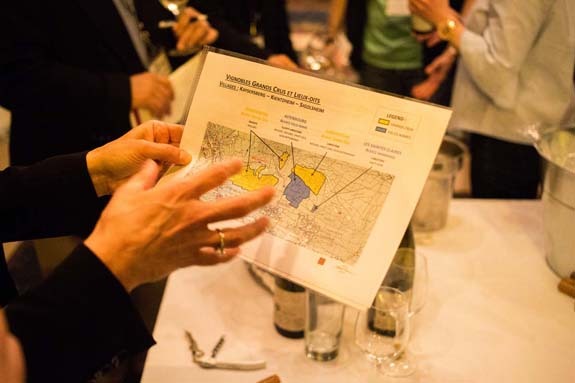 Who was in and who was out of ACT bears a strong relationship to the Alsace rankings in Guide des Meilleurs Vins de France. This is the annual review published by La Revue de Vin de France. All in French, but easy enough to figure out for if your French is far from perfect. The 2018 edition is out at the end of August 2017. Get a copy, as it's a great "data point" from a certain angle, on who are considered the quality winemakers in France. The Revue is organised in star rankings. Three stars, two stars, one and then no star.  From the Alsace three star group, five of the six winemakers are members of ACT. There are 11 from 12 in the two star group and three producers from the much bigger one star group.
Olivier Humbrecht from Domain Zind-Humbrecht and president of the Alsace Grand Cru's section describes ACT as, " Family estates, with high ethics and a good team that will promote a united front on Alsace wines".
Séverine Schlumberger had this to say, " It was important to get ACT going with a collective spirit and this was easier with a group of 20, rather than 50. It is expected as the group develops it will grow in membership."
A view from Etienne Loew, " There are about 50 producers who provide the quality image of Alsace wines and it's a good thing if there is some collective organisation around this."
It is definitely a fascinating initiative, where several independent trailblazers see the benefit of getting on the same locomotive. You have Etienne Loew who has energetically carved out a big reputation in (and for) the "polar north of Alsace". You have Andre Ostertag who crashed through the acceptance of barrique matured white wines in Alsace, which were atypical for the appellation at the time. You have Antoine Kreydenweiss, who took on the family domain with an international reputation and is forging a delicious path in crafted wines based on precision, patience and minimal intervention.
The majority of the group are certified organic or biodynamic producers. This is an interesting aspect, as listed on the ACT individual producer cards are 11 different tags describing the viticulture method. These are listed in the table of the 19 producers at the foot of the article.
For information 16% of the Alsace region vineyards were reported as organic or biodynamic in 2016. The current estimation is that the percentage is around 25% when conversion programs are taken into account.
The ACT Charter
La charte as its called in French is based on seven areas: Engagement, Terroir, the Vineyard, the Harvest, the Cellar (wine making set up), Image and Reputation and finally, Culture and Communication.
There is a lot in here that Back In Alsace likes. It's just our humble opinion of course and here are just a few edited examples from the charter.
Terroir: An expression of a place as the interaction between the soil, the sky, the vines and the wine maker.  Terroir is a unique and singular combination that can't be copied. It can't be produced on an industrial scale and the acceptance of diversity is fundamental and even the concept of Terroir.
The Vineyard: An organic or biodynamic viticulture that reinforces the terroir, is particularly recommended and should become an objective.
The Cellar: Respect of the life of the vines should naturally mean the respect of the life of the wine. Favourise natural fermentations, limit any additives to a minimum and ban the use of traumatising technology.
Back In Alsace caught the ACT event in New York, which was held in May. There was a most excellent "master class" in the morning run by Thomas Larmoyer from the André Ostertag domaine. Thomas is a fabulous communicator and he was assisted with multiple interventions from various winemakers. The class was based on tasting 16 Rieslings from six different sets of Grand Cru terroirs; Granitic, Sandstone, Schist, Volcanic, Limestone, Clay/Marl. The afternoon session was a general walk around tasting, again based on the six terroirs with an excellent palette of around 100 Rieslings to sample. The day was well attended with some great questions and dialogue with the producers.
An interesting point on the numbers side where the 19 ACT producers bottle around 3.2 million bottles a year between them. That's approximately 2% of the total Alsace production. So, definitely a vanguard movement of sorts.
We are looking forward to a status update from ACT and what are their plans for the rest of 2017 and into 2018.
| | | |
| --- | --- | --- |
| The Domaines | Village – Bottle Production | Vineyard Management |
| BARMES-BUECHER | Wettolsheim -100k | Organic or Biodynamic |
| BOTT-GEYL | Beblenheim – 85k | Organic and Biodynamic |
| ALBERT BOXLER | Niedermorschwihr – 60k | Sustainable |
| JOSMEYER | Wintzenheim – 160k | Organic and Biodynamic |
| KIENTZLER | Ribeauvillé – 70k | Sustainable |
| MARC KREYDENWEISS | Andlau – 70k | Certified organic or Biodynamic |
| LOEW | Westhoffen – 60k | Certified Organic and Biodynamic Demeter |
| ALBERT MANN | Wettolsheim – 120k | Organic and Biodynamic |
| MEYER-FONNÉ | Katzenthal – 85k | Organic non-certified |
| MURÉ | Rouffach – 110k | Biodynamic |
| OSTERTAG | Epfig – 85k | Biodynamic certified Demeter |
| MARTIN SCHAETZEL | Kientzheim – 40k | In conversion Biodynamic |
| SCHLUMBERGER | Guebwiller – 600k | Sustainable – Organic – Biodynamic |
| SCHOFFIT | Colmar – 100k | Sustainable |
| TRAPET | Riquewihr – 45k | Certified Organic or Biodynamic |
| TRIMBACH | Ribeauvillé – 1000k | Conversion for  estate owned areas |
| WEINBACH | Kaysersberg – 130k | Biodynamic certified Demeter |
| ZIND-HUMBRECHT | Turckheim – 180k | Biodynamic |
| ZUSSLIN | Orschwihr – 120k | Organic or Biodynamic |