Les Vins Libérés – Summer Fête – Ammerschwihr :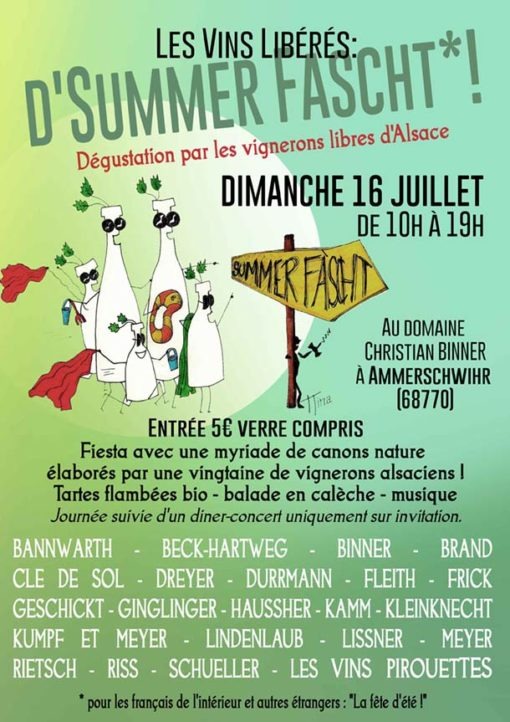 Les Vins Libérés is a day of celebration that comes on the heels of the mini salons that fringed some bigger events in 2015 and 2016. This time, producers put together a stand-alone event, a one-day summer fête held at Christian Binner's domaine in Ammerschwihr. This "natural wine" salon is a landmark that helps establish the new energy in the Alsace natural wine community. And it's bang in the heart of the wine region.
The core of this community are the four pioneer producers, Jean-Pierre Frick, Patrick Meyer, Bruno Schueller and Christian Binner who established a foundation for the natural wine approach in Alsace. The Gang of Four developed a hard fought reputation and blazed their own trail, encouraging a wave of other producers to move into this way of winemaking.
The Alsace "natural wine" movement, in the opinion of Back In Alsace, is here to stay and grow. It's not some sort of trendy short-term phenomenon. You can find wines from the producers at the Ammerschwihr salon in New York to Seoul, Tokyo, San Francisco, Copenhagen, Berlin, Los Angeles, London, Paris, and Amsterdam. Often in the top restaurants. This approach to Alsace wine making is creating dynamic competition and a new energy in the region. In Silicon Valley this kind of change in the tech world would be labelled as disruptive technology. Sort of the same tag can be used for the wine world of the Rhine Valley.
It's not only a wake up call for some other areas of Alsace wine production, it's a wake up call for some of the established journalists and authors who report on natural wine and who seem to have passed by on Alsace.
From the 20 producers participating in the salon, we managed to visit ten (by coincidence) in early summer.