SPRING HAS ROLLED IN AND ALMOST ROLLED OUT   
It's the four day Ascension weekend in France, with the country slowly coming out of the restrictions around Covid19. Far from Alsace, I am sitting in San Francisco on day 65 of our 'shelter in place' order. Alsace has been a difficult place to get back to during all this, as it was a peak, hot spot for Covid19 and is still in the restricted red zone this weekend.  Hopefully, I will get back for an extended summer stay. That's the plan.
The Back_In_Alsace blog has been on a bit of a hiatus due to other projects and also a recovery period, after being heavily involved in putting on the WineCallSF Natural Wine Fair at the end of last year.
We will change this intro in the next few weeks as we move ahead with some stories on initiatives on parts of the wine industry we care about, an additional handful of producer spot profiles and an update on the numbers game in the Alsace wine region.
A couple of events I was set to attend were postponed. The 7th edition of the biannual, Le Salon des Vins Libres, postponed from May this year to May 2021. The weekend and venue have been set for next year, winemakers are already committing to the event and we will run a regular update on planning and arrangements. Another postponement was the trade day held each March, with the group of Catherine Riss, Lucas Rieffel, Jean-Pierre Rietsch and Antoine Kreydenweiss. That event could still be rescheduled for later in the year. This was a big miss, as there are usually 70-80 wines to sample and talk about, plus a party in the evening.
Something to look forward to is the Brutes wine fair scheduled for the weekend of 7-8th November in Mulhouse. This will be edition three and fingers crossed big style, for the world to calm down before then.
To maintain a level of fun, we have been regularly posting on Instagram since the start of the year, featuring many of our favourite winemakers.
FOIRE ECO BIO ALSACE 
Another event we might have fitted in during May, was the cancelled Foire Eco Bio Alsace. The fair has been held every year on the Ascension weekend, starting way back in 1982. Due to its growth and success, the event was moved in 2007 from its original Rouffach venue to Le Parc des Expostions in Colmar, on the Avenue de la Foire aux Vins. Not bad for an address, but the giant fairground is post industrial brash compared to the wineroute villages. The fair is a huge rambling celebration of all things organic, bio as they say in France. A way of life celebration with wine, food, conferences, water diviners, jugglers, kids play parks, philosophers, book stalls and anything bio you can imagine.
Now, one of the founders of the fair is Jean-Pierre Frick, who is a biodynamic and natural wine pioneer in Alsace and in France. Jean-Pierre's domaine in Pfaffenheim is a regular stopping place when the Back In Alsace equipe are down in the "south".  I started attending the fair back in 1992 at its original venue in Rouffach. I have just realised that I have been drinking natural wine since the 90's and that feels pretty cool. I was in on this, without even knowing it.
Jean-Pierre and Chantal with their son Thomas, were all set with a stand at this years fair. I am looking forward to the 2021 edition, with fingers crossed again.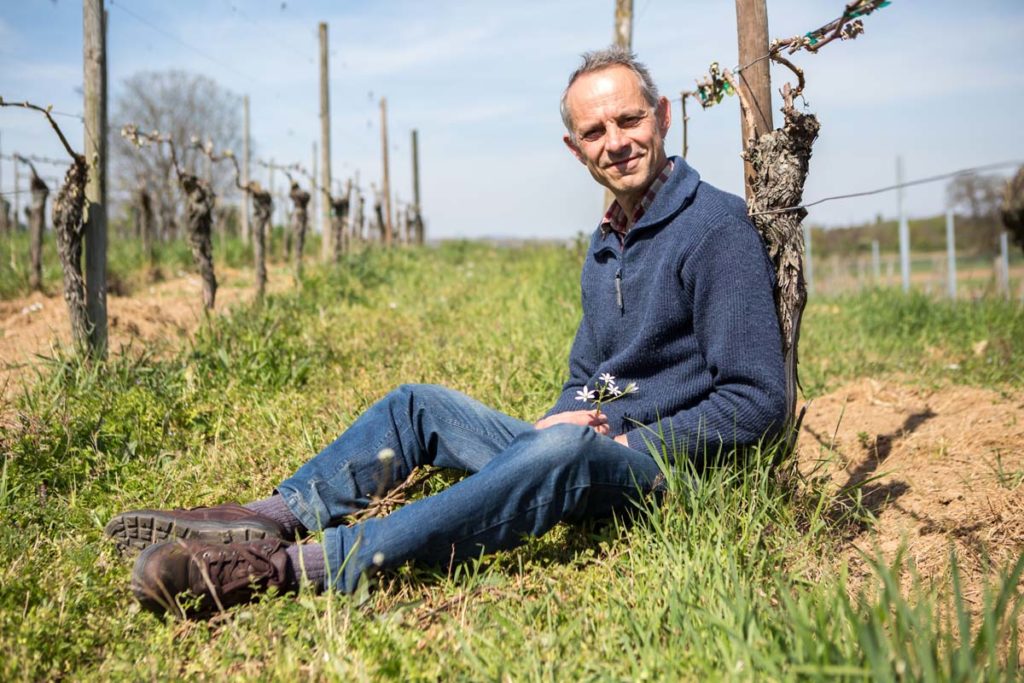 Jean-Pierre Frick in the Rot Murlé vineyard in the spring of 2017 – photo by Benoit Cortet
–  the project  –
The Lost In Alsace Project is focused on two main areas; providing a platform for "les vignerons artisans d'Alsace" and secondly, a follow up and reporting of the major events, twists and turns and initiatives that shape what matters with Alsace wine today. As with any "old world" wine region, there are plenty of issues, degrees of bull-shit, and bad attitudes stuck in the industrial agricultural recent past. We will be giving all that sort of stuff a body swerve as we firmly focus on all that vibrant, forward looking, energy that is currently buzzing in the region.
We are big supporters  of producers who practice organic or biodynamic husbandry in the vineyards. Vignerons who are looking after the earth. In fact, that is the foundation of our interest. And we love winemakers that carry this attitude through to techniques in the cellar; with natural fermentations, the use of traditional and non-traumatising physical methods, and a healthy disrespect for the use of additives.  These are the foundations that allow winemakers the opportunity to express a sense of terroir, a sense of wine that comes from a place, from a time with the input of human skills and attitudes. With a lot of attitude. That takes us into a space where we are mainly focused on, what can loosely be termed, natural wine.
# splash page photo by Benoit Cortet – a parcelle of Laurent Barth's Pinot Noir, high up on the Marckrain Grand Cru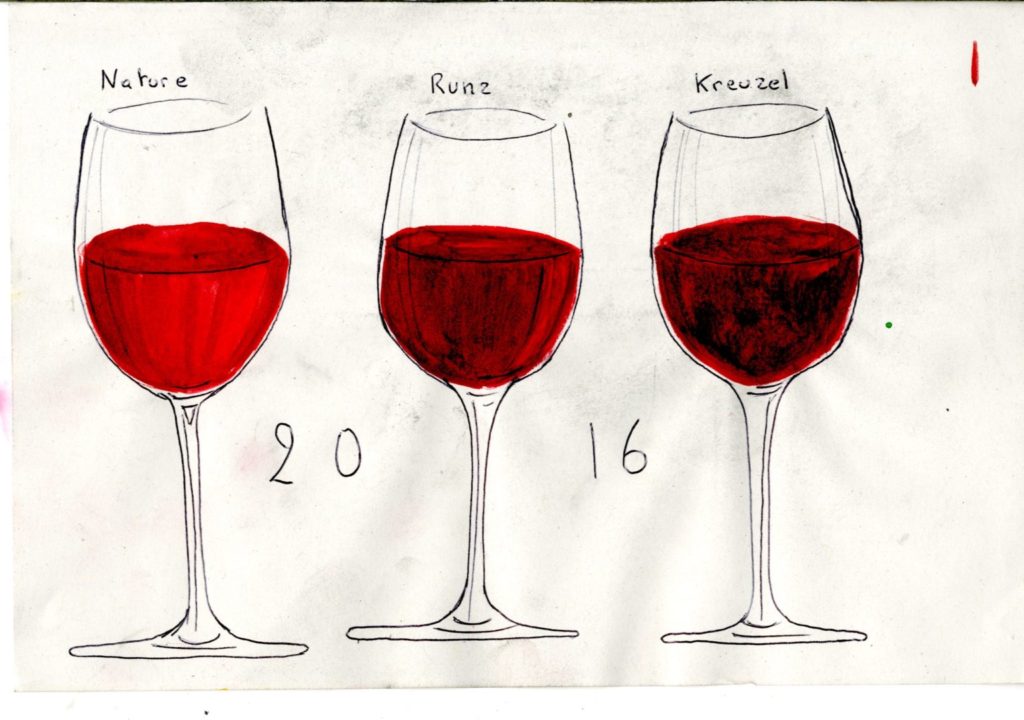 Three shades of red from Lucas Rieffel – captured by Mona Neilson – website here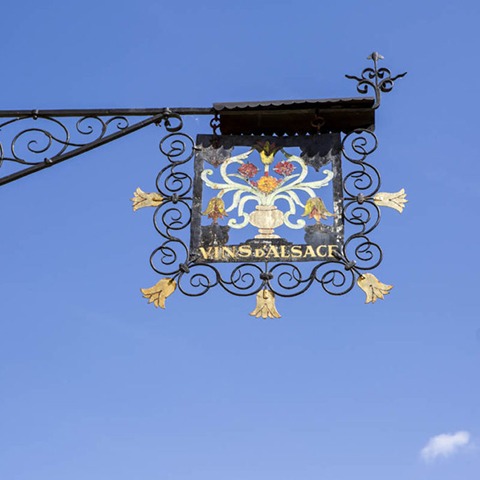 What's going on in the Alsace wine region at the moment ? Quite a lot. We start by looking at  projects around wine classification and an upsurge in activity from producer groups.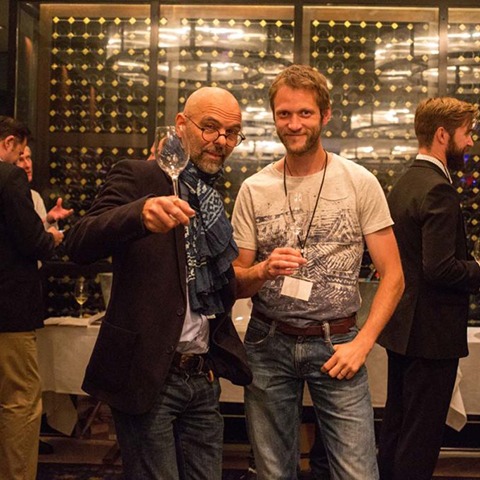 We will be profiling a series of reference domains that are making a difference and setting the new standards for Alsace wine. In the shot André Ostertag and Antoine Kreydenweiss in New York.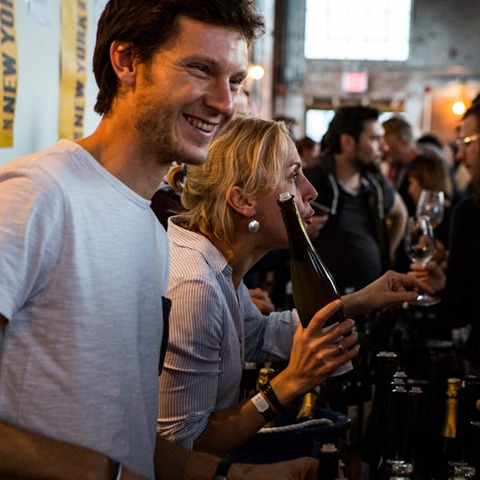 Includes: 2018 growing season and harvest update, Pinot Noir as a Grand Cru variety, the ACT association. And, a little gem of an interview  with Patrick Meyer at the Vins Libres salon.