SPRING ROLLS IN  
March update on its way as we work through the current lockdown situation.
–  d'Summer Fascht  –
Coming up in Colmar on le 14 juillet,  is the second edition of d'Summer Fascht. The first edition was held in 2017. This salon alternates with the Salon Des Vins Libres which started way back in 2008. As mentioned elsewhere, d'Fascht is a good measure of the energy around the group of winemakers in Alsace who are involved in whats is broadly referred to as the natural wine movement.
But even more important, the event is being put on by  AVLA, the brand new Association Vins Libres in Alsace. It's better in French, l'Association des Vins Libre d'Alsace. Alsace FREE WINES 🙂 A group 0f 26 winemakers who have come together to promote the Alsace Natural Wine community.
What are you getting wine-wise on the 14th? ONE HUNDRED PLUS CUVÉES of wines made from organic or biodynamic vineyard husbandry, then with nothing at all added in the cellar. All ZERO ZERO wines as the tagline goes. Wines made with ultra patience and care.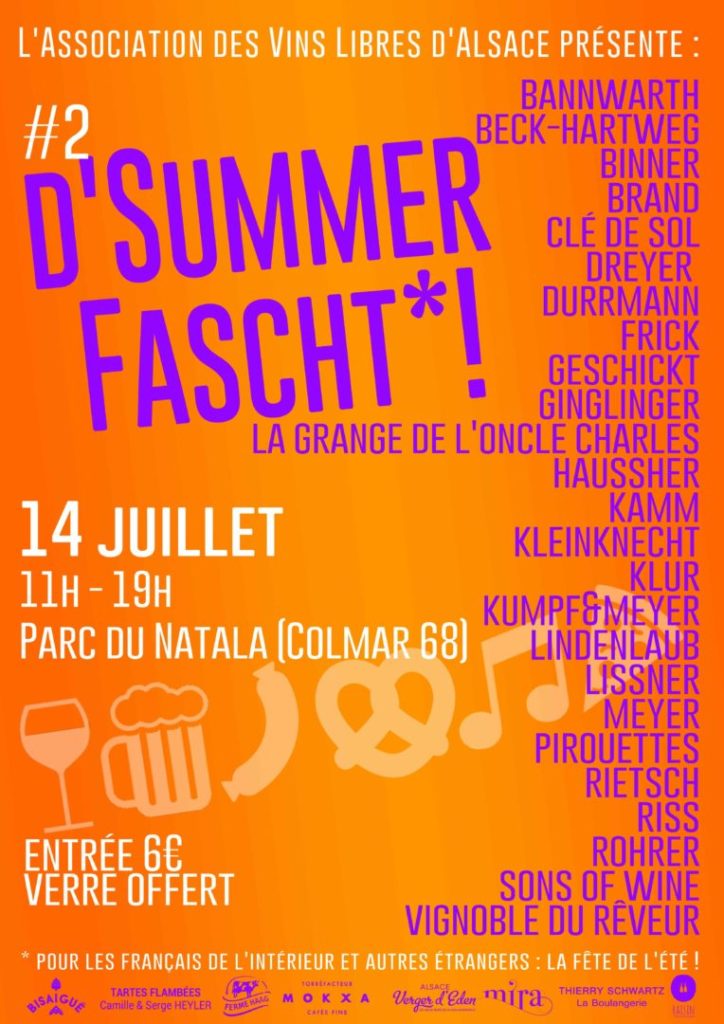 – Already Summer –

Spring passed in a flash. It was cold with above average rainfall. So, the Alsace growing season started as most definitely on the "tardive" side. June switched that, where several days in the first two weeks saw maximum temperatures in the low 30 Cs. That produced a flourish of much needed growth in the vineyards. Nothing like a few sentences to summarise three months of weather.
We pruned our small vineyard of young vines in March, debudded in May and put up the plan de palissage at the same time.
We were pretty low-key on visits to Alsace winemakers during the Spring. We did manage lunch and a tasting with Jean-Pierre Frick down in Pfaffenheim, in the company of the wonderful Marc Tempé. We also managed an afternoon visit to the annual, last Monday in March event, with Jean-Pierre Rietsch, Catherine Riss, Lucas Rieffel and Antoine Kreydenweiss. This year the event was held at Jean-Pierre's new set up in Mittelbergheim.
Then, fitting in with some business travel and family visits, we took advantage of dates aligning with a handful of wine fairs. First off the bat was the big jamboree, artisanal winemaker trade fair, that RAW LONDON has become. That same day just a short walk down The Strand from the RAW venue, we had the privilege of lunch with Doug Wregg at the bar in his Terroirs restaurant. Then we clocked into Vins Vivant Natural Wine fair, in Fribourg, Switzerland. That was followed by a quick drive back over the hills to the Jura, where Le Nez Dans Le Vert salon took place in the grandeur of Saline Royale d'Arc et Senans. This is the annual organic winegrowers fair in the Jura. Back to London a few weeks later, we arrived in time for Real Wine, held in the post-industrial setting of Tobacco Dock.
It was good to catch up with several of the Alsace producers at the fairs: Philippe Brand, Christian Binner, Farid Yashimi from Sons of Wine, Jean-Pierre Frick, Yann Durrmann, Christophe Lindenlaub, Vanessa Letort from Les Pirouettes, Jean Dietrich from Achillée.
Lots of images and associated smart-ass comments from the fairs, can be found on our Instagram feed.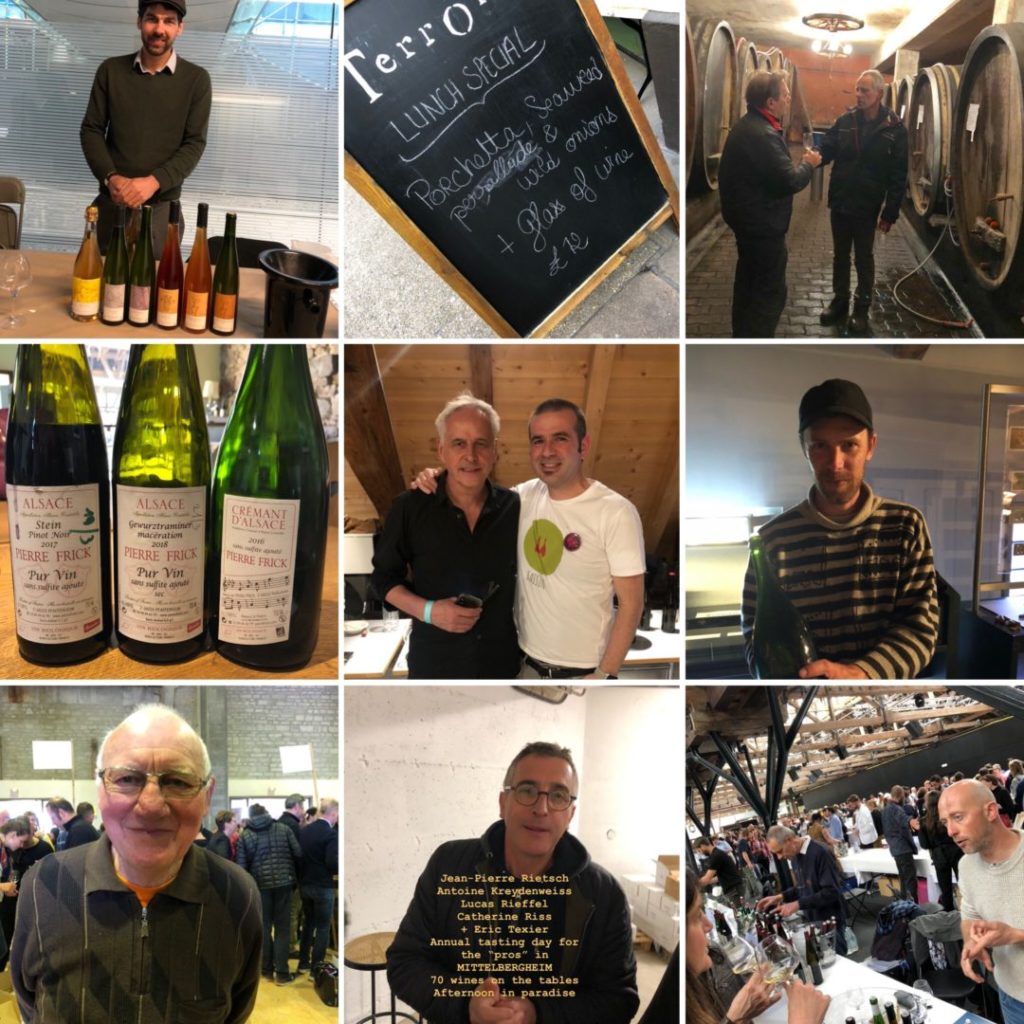 –  the project  –
The Lost In Alsace Project is focused on two main areas; providing a platform for "les vignerons artisans d'Alsace" and secondly, a follow up and reporting of the major events, twists and turns and initiatives that shape what matters with Alsace wine today. As with any "old world" wine region, there are plenty of issues, degrees of bull-shit, and bad attitudes stuck in the industrial agricultural recent past. We will be giving all that sort of stuff a body swerve as we firmly focus on all that vibrant, forward looking energy, that is currently buzzing in the region.
We are big supporters  of producers who practice organic or biodynamic husbandry in the vineyards. Vignerons who are looking after the earth. In fact, that is the foundation of our interest. And we love winemakers that carry this attitude through to techniques in the cellar; with natural fermentations, the use of traditional and non-traumatising physical methods, and a healthy disrespect for the use of additives.  These are the foundations that allow winemakers the opportunity to express a sense of terroir, a sense of wine that comes from a place, from a time with the input of human skills and attitudes. With a lot of attitude. That takes us into a space where we are mainly focused on, what can loosely be termed, natural wine.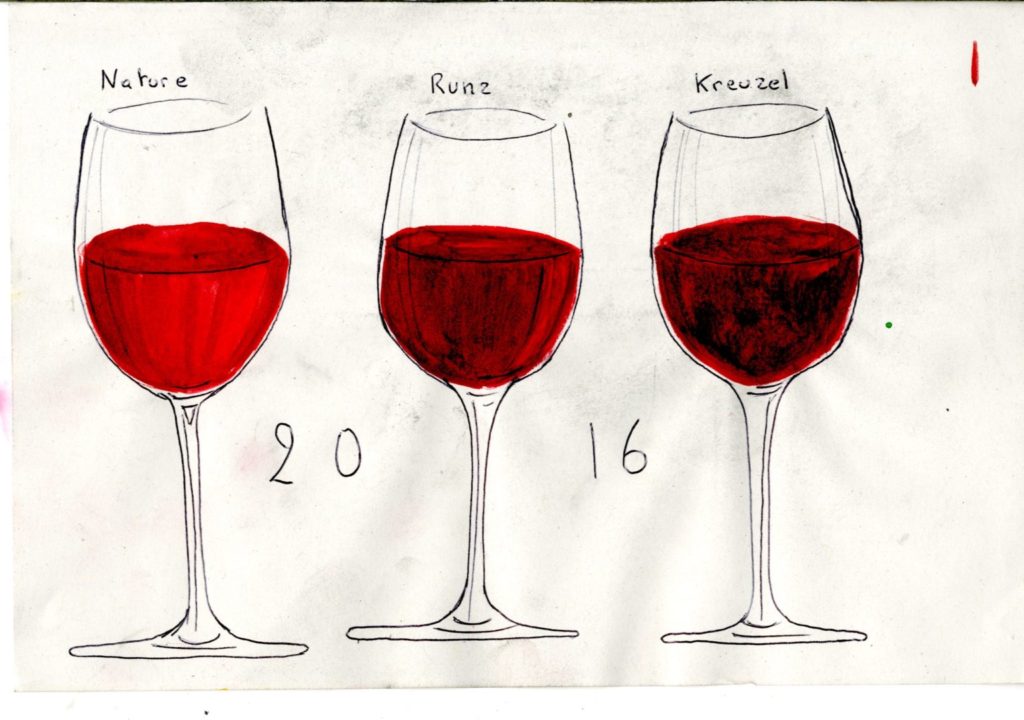 Three shades of red from Lucas Rieffel – captured by Mona Neilson – website here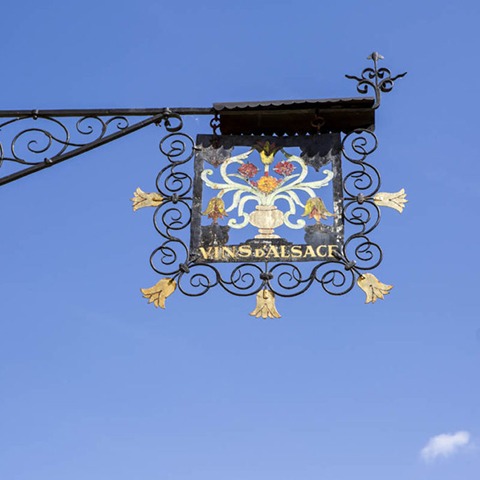 What's going on in the Alsace wine region at the moment ? Quite a lot. We start by looking at  projects around wine classification and an upsurge in activity from producer groups.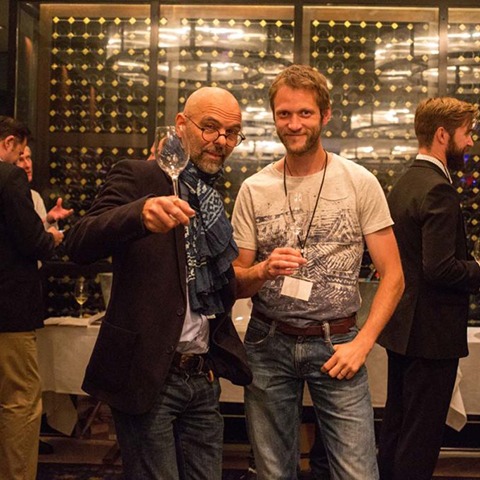 We will be profiling a series of reference domains that are making a difference and setting the new standards for Alsace wine. In the shot André Ostertag and Antoine Kreydenweiss in New York.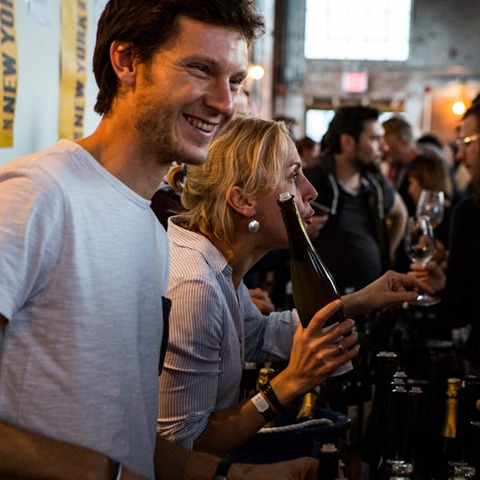 Includes: 2018 growing season and harvest update, Pinot Noir as a Grand Cru variety, the ACT association. And, a little gem of an interview  with Patrick Meyer at the Vins Libres salon.