Into December And Much To Do 
Harvest 2018 is wrapped up – check here for the Harvest Reports filed by winemaker Florian Beck-Hartweg.
Just published reference profile on winemaker Catherine Riss here
Just published reference profile on winemaker Jean-Marc Dreyer here
Just published reference profile on winemaker Christophe Lindenlaub here
The last few weeks have been full of surprises in the Alsace wine scene, especially in the areas that grab the attention of Back In Alsace.
Four events took place that are worth a shout and more information will follow on all four in the next week or so.
1 – The Revue du Vin de France published a special report with a cover page on " Alsace, the wine region the most Biodynamic in Europe." In addition the magazine editorial took the lead with " The Hour of Biodynamics." The fourteen page coverage included a rush of references to several key Alsace domaines. The tail-end of the piece produced the bonus of two pages on the Natural Wine scene in Alsace. This was a breath of fresh air from La Revue, which has a tendency to dwell on the quality classics of the French wine region.
2 – Cuveé is a new quarterly wine magazine/review and the 4th edition was totally dedicated to Alsace. We have yet to lay our hands on a copy, but copies are in the post, despatched to Back In Alsace HQ.
3 – Last but not least on the publication front. Our absolute favourite French wine revue, Le Rouge et Le Blanc, ran a cover picture and major article on Les Vins Pirouettes. This initiative driven by Christian Binner, Vanessa Letort, Pierre Sanchez and Xavier Couturier, works across a dozen Alsace domains producing a range of Natural Wine cuveés. Some information is already covered in our STORIES section on the 2017 RAW Wine Fairs report here
4 – Finally a BIG NEW EVENT – Salon Brutes, a spanking new Natural Wine fair, staged an inaugural edition on the first weekend of November. This was housed in Mulhouse, Alsace. From our sources this was a big success and again, more information to follow.
November also saw the well established international RAW Wine Fair, making its first appearance in Montreal with four Alsace producers in attendance. The Autumn series of RAW has covered Los Angeles and New York during the last few years and this was the first step onto Canadian soil. The same weekend another natural wine fair was going on in Lyon. Sous les Paveés La Vigne was back again and with a handful of relevant Alsace domaines pouring their selections.
Updates to follow ……….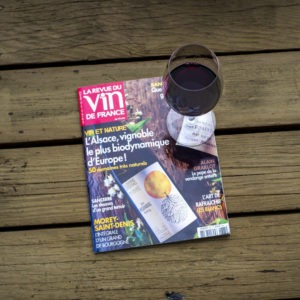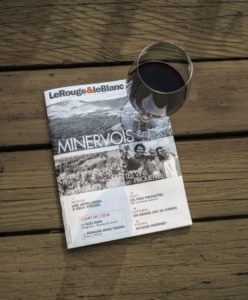 The Back In Alsace Project is focused on two main areas; firstly providing a platform for "les vignerons artisans d'Alsace" and secondly, a follow up and reporting of the major events, twists and turns and initiatives that shape what matters with Alsace wine today. As with any "old world" wine region, there are plenty of issues, degrees of bull-shit, and bad attitudes stuck in the industrial agricultural recent past. We will be giving all that sort of stuff a body swerve as we firmly focus on all that vibrant, forward looking energy, that is currently buzzing in the region.
We are big supporters  of producers who practice organic or biodynamic husbandry in the vineyards. And we love winemakers that carry this attitude through to techniques in the cellar; with natural fermentations, the use of traditional and non-traumatising physical methods, and a healthy disrespect for the use of additives.  These are the foundations that allow winemakers the opportunity to express a sense of terroir, a sense of product (wine) that comes from a place, from a time with the input of human skills and attitudes.
On the cover-page: the town of Katzenthal, with the Wineck-Schlossberg Grand Cru sitting behind that distinctive white tower. Photo by benoitcortet.com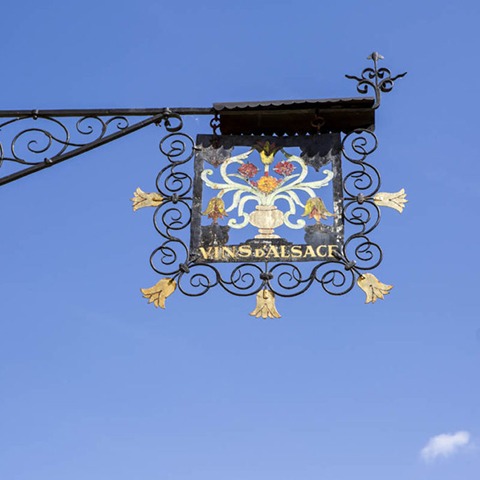 What's going on in the Alsace wine region at the moment ? Quite a lot. We start by looking at  projects around wine classification and an upsurge in activity from producer groups.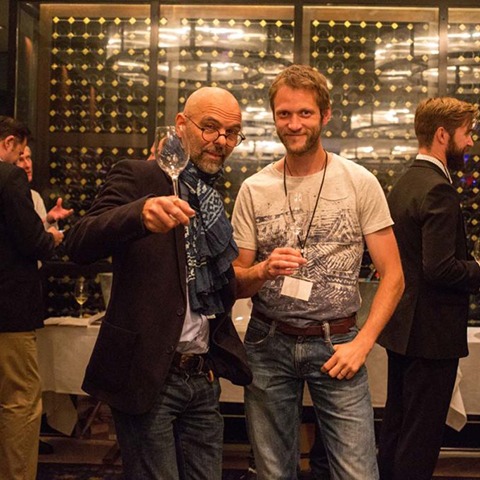 We will be profiling a series of reference domains that are making a difference and setting the new standards for Alsace wine. In the shot André Ostertag and Antoine Kreydenweiss in New York.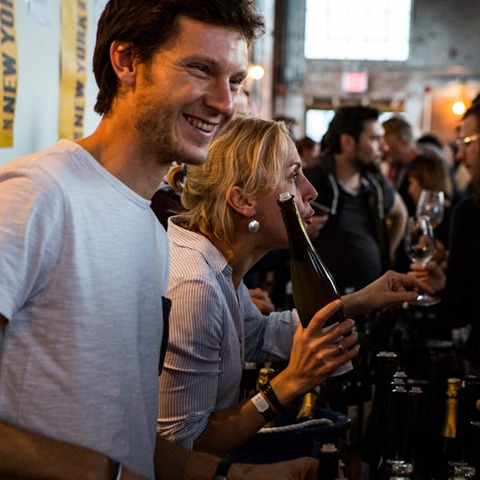 Includes: 2018 growing season and harvest update, Pinot Noir as a Grand Cru variety, the ACT association. And, a little gem of an interview  with Patrick Meyer at the Vins Libres salon.