The Alsace Vineyard in Autumn
From Pfaffenheim to Orschwihr,  photo by the dashing pilot Tristan Vuano – his excellent web site here
Bande à Part, Contre-Courant chez Philippe Brand
Jumping out from harvest and hopefully navigating the current health situation, Philippe Brand and friends have organised a mini salon for the last weekend in October. Check out the poster below for all the details; with twenty plus winemakers, a little art exhibition and authentic local produce on the food side. 
Philippe's parcelles around Ergersheim are the closest vineyards to Strasbourg and within easy cycling distance. I have tasted at Philippe's table at wine fairs from San Francisco to London to Colmar, as well as fitting in quite a few visits to the domain. He is the most northerly of the growing band of winemakers that make up the Alsace natural wine group. The Alsace domains at the salon are hyper-local, all from near-bye wine villages to Ergersheim. 
This wine fair is another example, of how a winemaker from the Alsace natural wine group, is helping to consolidate the energy and success from this style of winemaking into an event, a happening. Philippe is bringing in natural wine domaines from Alsace and around France, plus extending a bridge to some winemakers who are making a few natural wine cuvées from their biodynamic vineyards. Great to see this event build after the success of the inaugural mini-salon last year at the Brand domaine.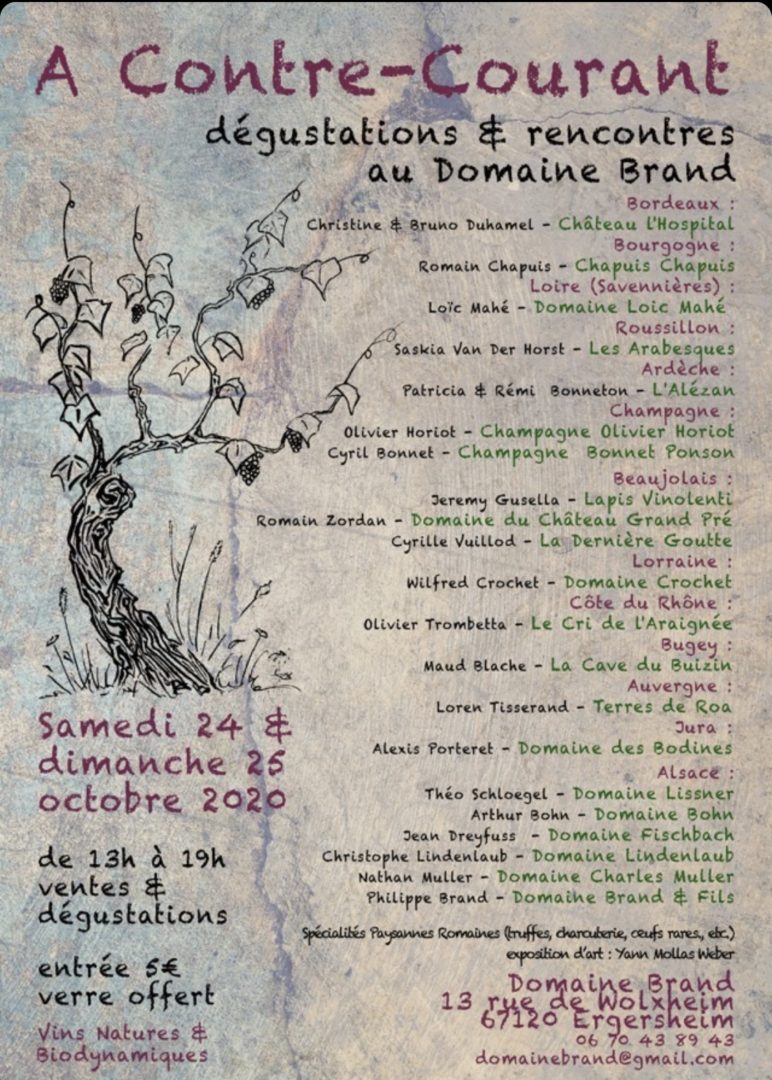 This shot of Philippe Brand (by Benoit Cortet, the Back in Alsace photographer), always makes me think of the phrase "A Portrait of the Artist as a Young Man."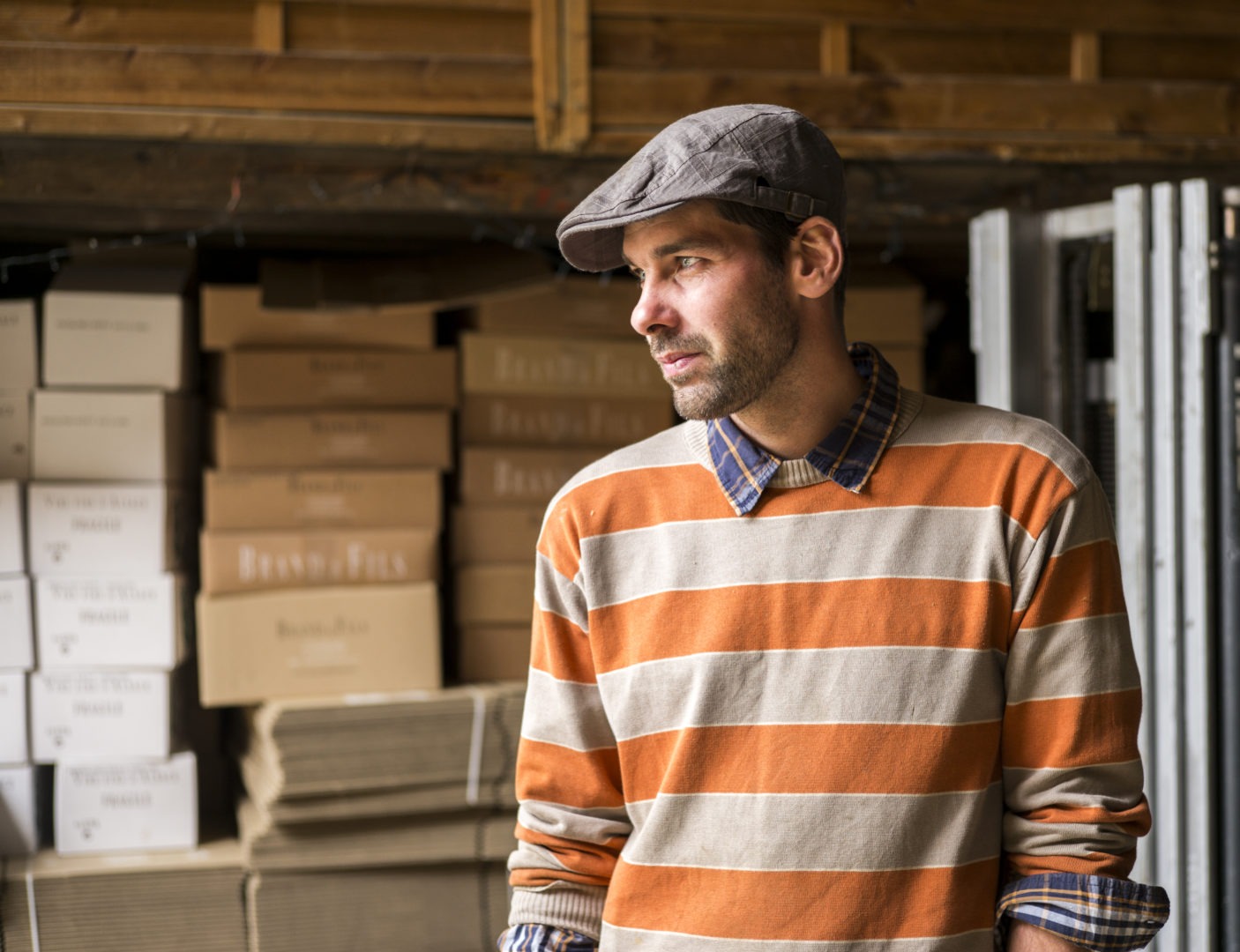 The Brut(es) Wine Fair – Scheduled for November 
Updated Sunday 25th October –  CANCELLED DUE TO COVID19 RESTRICTIONS IN THE HAUT RHIN
The third edition of Brut(es) is still on the calendar for the weekend of the 7-8th November. The venue is again the post modern Motoco building in Mulhouse. The format of the fair has been reduced to cope with the current guidelines, around managing this sort of event in the Covid19 situation. The Saturday night dinner/celebration has been canceled and a smaller number of winemakers will be present. You can get updates and check the program and attendee guidelines here
The third edition continues the tradition of looking EAST, with the majority of winemakers coming from the eastern side of France and from across the Rhine border. The Alsace brigade is again strong, with a cool mix of the more established domains joined by some of the new Alsace natural wine upstarts. Upstarts sounds better than startups. This weekend another two Alsace domaines were added with Leo Dirringer from Ruhlmann-Diringer, and Jerome Francois and Yann Bury from La Grange de l'Oncle Charles confirming their presence. As mentioned below in the "Harvest" piece, these fine young upstarts were profiled in the latest edition of the French wine magazine, 12.5 degrees.  
Fingers crossed that the fair stays on track, as the current health situation is still somewhat unsettled.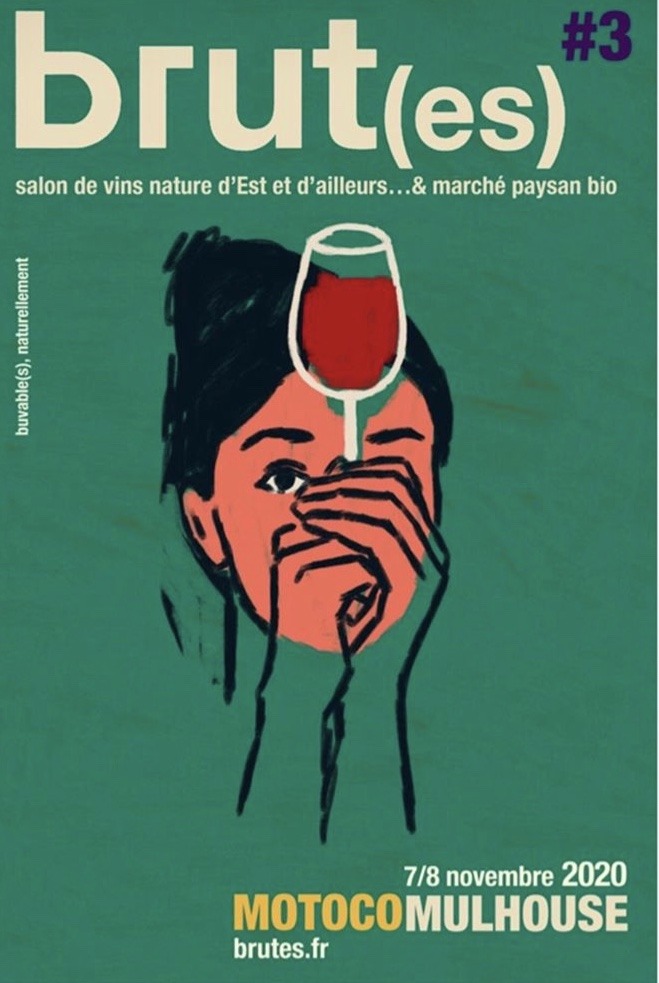 HARVEST – Well I See You Can Give More Than I Can Take
It is the middle of September and winemakers are deep into the Alsace harvest. The grape picking kicked-off on the 24th of August with the fruit for the huge cremant component – 25% of total wine production in Alsace. The main harvest got going on the 3rd of September. The weather has been sunny and it has been very hot, hot, and dry, dry, dry. Many of the producers we follow will have harvest wrapped up well before the end of September. We did get to a few domaines to do some grape picking and to experience that urgent flow of energy back at the cellar, as the fruit comes in and its moved through the presses or into maceration vessels.
If you read between the lines it's obvious that the Back In Alsace project is very much focused on Alsace NATURAL WINE. There are now around 40 producers in the natural wine group and we have calculated that they are knocking out around one million bottles between them. Not that any of them give a monkey's about that sort of statistic. That's less than 1% of total production in Alsace, but it is a percentage that is making a difference at the quality end of the Alsace wine market.
We are now a long way from the roots of natural wine in Alsace. Roots that were planted by Patrick Meyer, Bruno Schueller, Jean-Pierre Frick and Christian Binner, the four producers who nurtured this space for others to move into. Now it is getting kind of busy with three major wine fairs and several smaller fairs staged by individual, or sub groups of producers. All this is a healthy sign of activity and energy in the broader group. This energy of success gives "outsiders",  like ourselves, the impression that the natural wine scene in Alsace is bursting at the seams. Long may it continue to burst at the scenes.
A couple of UNimportant indicators of this can be seen in the serious (for us) French wine press. Le Rouge et Le Blanc is about to run a major piece on the Sylvaner variety on the Zotzenberg Grand Cru. Without any doubt, it is the natural wine producers on the Zotzenberg who have reawakened the wine world to this grand cru vineyard, and Jean-Pierre Rietsch, Lucas Rieffel and André Kleinknecht have their mug shots on the front cover of the edition about to be published. 
Turning to that Vogue-like, indie wine review, 12.5 degrees – the spanking new, super cool edition has a piece on Alsace "bio" producers. Very nice and fancy. Of the seven featured producers, four are hard core natural wine producers, all dearly loved by Back In Alsace of course. Profiles of the Christian Binner and Jean-Pierre Frick domaines, are joined by profiles of Jerome Francois and Yann Bury from La Grange de l'Oncle Charles and of Leo Dirringer from Domaine Ruhlmann-Dirringer.
A couple of data points that pin Alsace natural wine, bang on the map of serious and interesting wine production.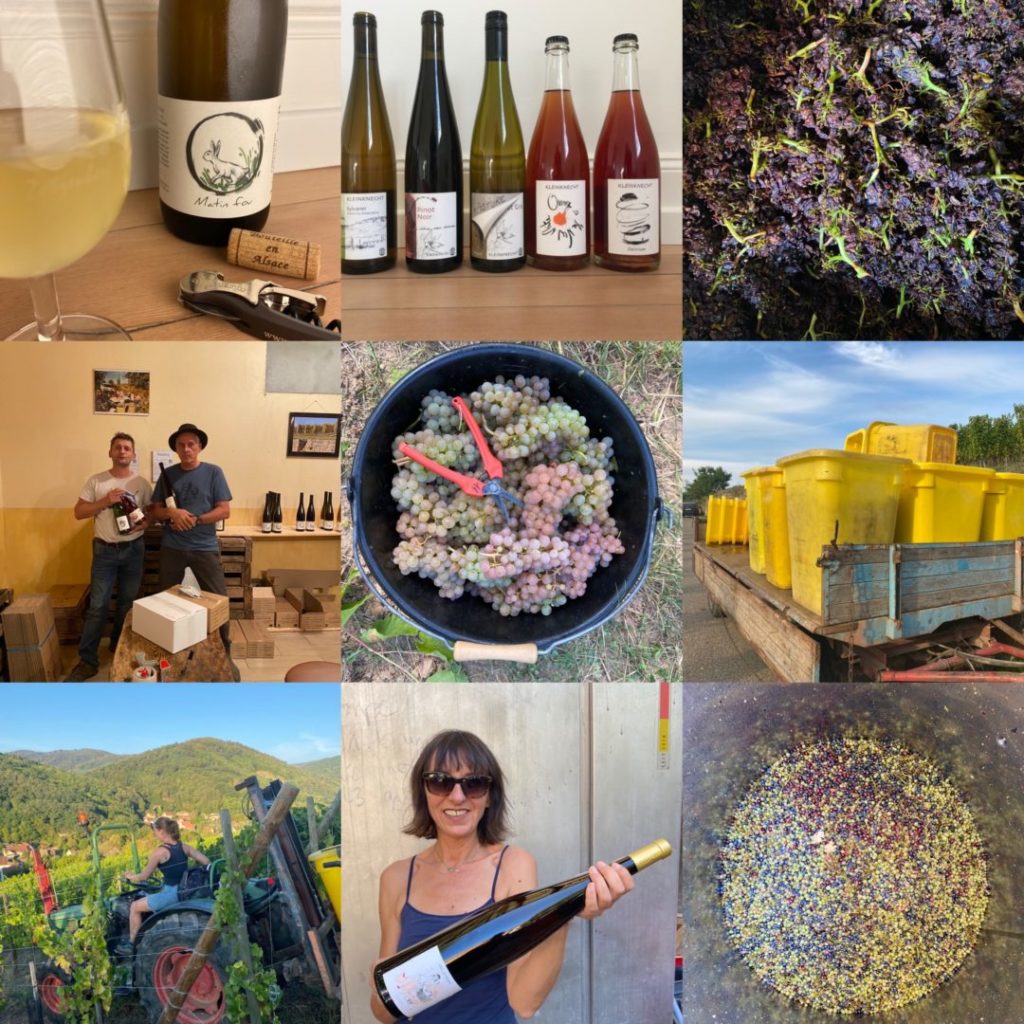 It's JULY  and we are in Alsace
Visits to Lambert Spielmann, Lucas Rieffel, André Kleinknecht, Jean-Pierre Rietsch and Christoph Lindenlaub. Dinner with friends and Bruno Schueller and pétanque with Patrick Meyer and family. Lunches at Au Pont Corbeau and La Vieille Enseigne and picking up bottles at Au Fil du Vin Libre. La vie en rose. Well, la vie en Alsace.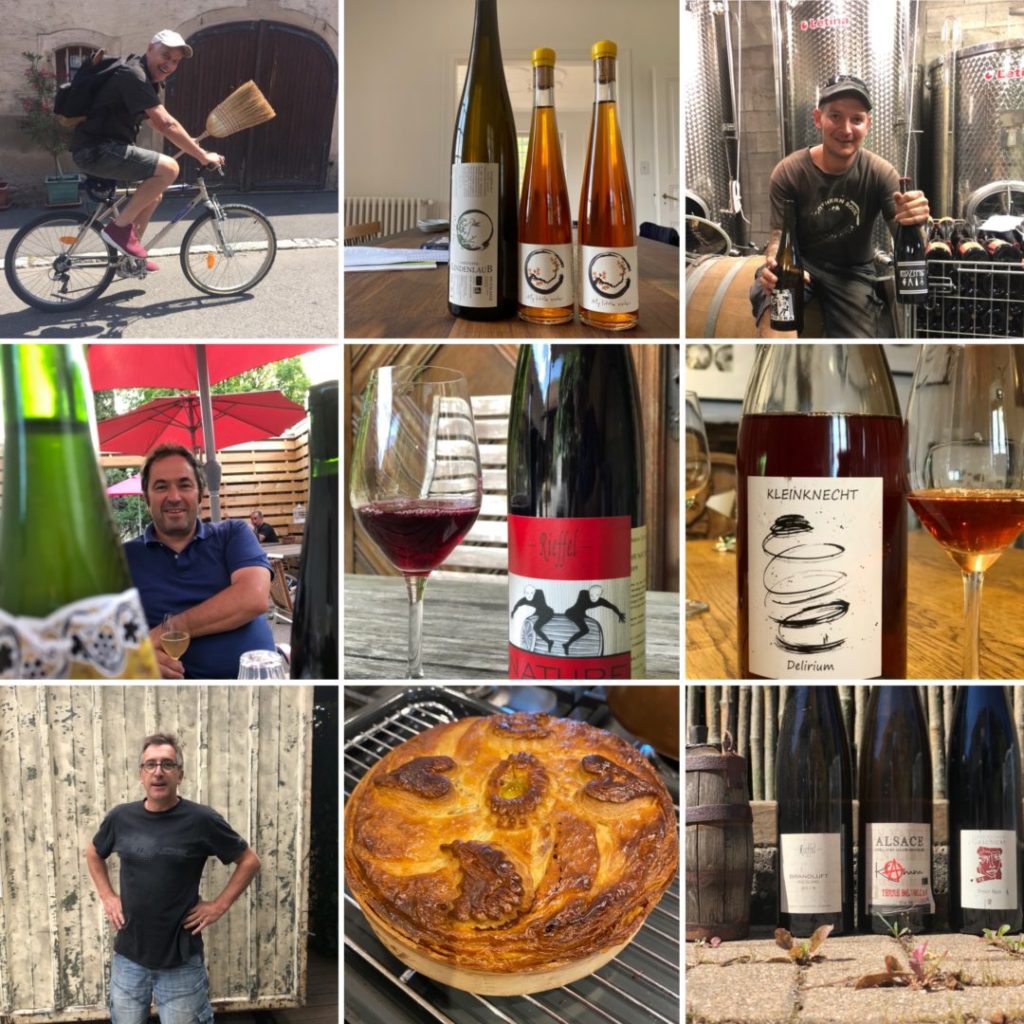 SPRING HAS ROLLED IN AND ALMOST ROLLED OUT   
It's the four day Ascension weekend in France, with the country slowly coming out of the restrictions around Covid19. Far from Alsace, I am sitting in San Francisco on day 65 of our 'shelter in place' order. Alsace has been a difficult place to get back to during all this, as it was a peak hot spot, for Covid19 and is still in the restricted red zone this weekend.  Hopefully, I will get back for an extended summer stay. That's the plan.
The Back_In_Alsace blog has been on a bit of a hiatus due to other projects and also a recovery period, after being heavily involved in putting on the WineCallSF Natural Wine Fair at the end of last year.
We will change this intro in the next few weeks as we move ahead with some stories on initiatives on parts of the wine industry we care about, an additional handful of producer spot profiles and an update on the numbers game in the Alsace wine region.
A couple of events I was set to attend were postponed. The 7th edition of the biannual, Le Salon des Vins Libres, postponed from May this year to May 2021. The weekend and venue have been set for next year, winemakers are already committing to the event and we will run a regular update on planning and arrangements. Another postponement was the trade day held each March, with the group of Catherine Riss, Lucas Rieffel, Jean-Pierre Rietsch and Antoine Kreydenweiss. That event could still be rescheduled for later in the year. This was a big miss, as there are usually 70-80 wines to sample and talk about, plus a party in the evening.
Something to look forward to is the Brutes wine fair scheduled for the weekend of 7-8th November in Mulhouse. This will be edition three and fingers crossed big style, for the world to calm down before then.
To maintain a level of fun, we have been regularly posting on Instagram since the start of the year, featuring many of our favourite winemakers.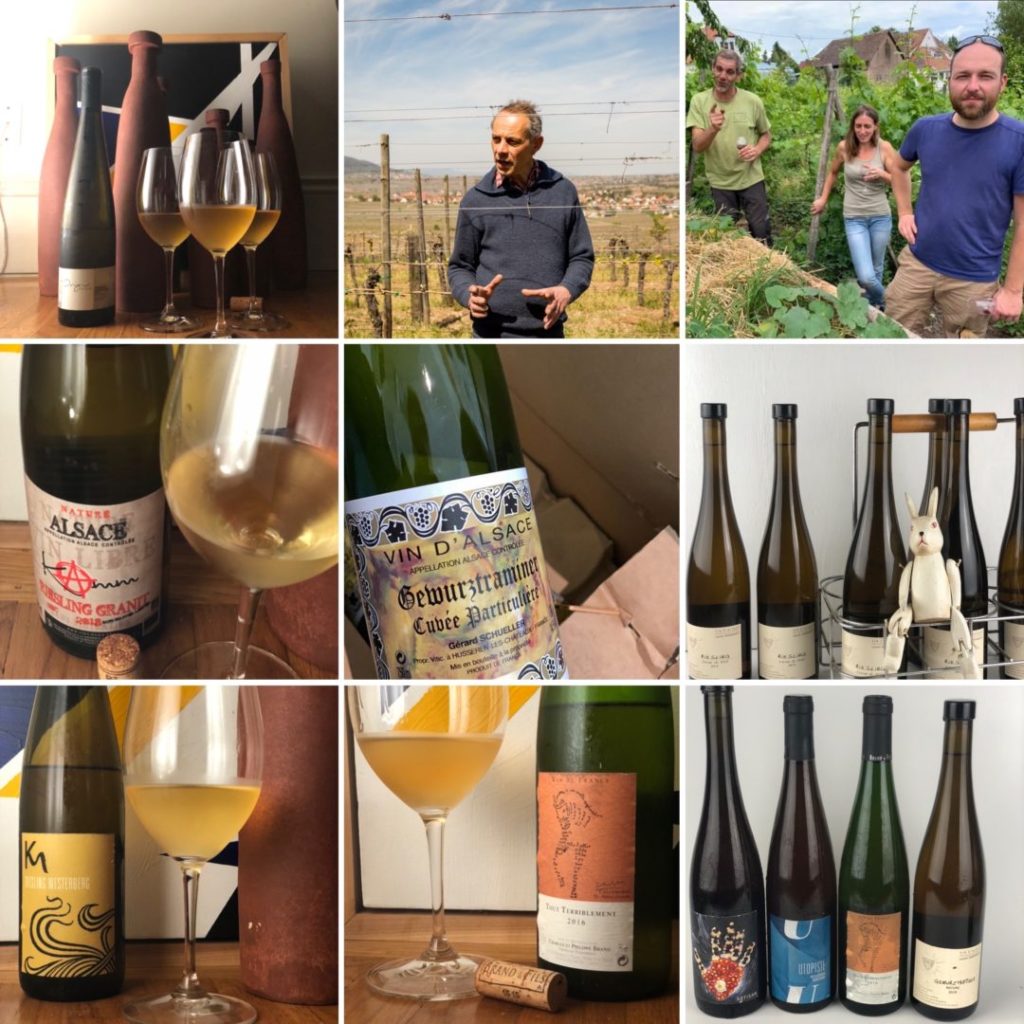 FOIRE ECO BIO ALSACE 
Another event we might have fitted in during May, was the cancelled Foire Eco Bio Alsace. The fair has been held every year on the Ascension weekend, starting way back in 1982. Due to its growth and success, the event was moved in 2007 from its original Rouffach venue to Le Parc des Expostions in Colmar, on the Avenue de la Foire aux Vins. Not bad for an address, but the giant fairground is post industrial brash compared to the wine-route villages. The fair is a huge rambling celebration of all things organic, bio as they say in France. A way of life celebration with wine, food, conferences, water diviners, jugglers, kids play parks, philosophers, book stalls and anything bio you can imagine.
Now, one of the founders of the fair is Jean-Pierre Frick, who is a biodynamic and natural wine pioneer in Alsace and in France. Jean-Pierre's domaine in Pfaffenheim is a regular stopping place when the Back In Alsace equipe are down in the "south".  I started attending the Eco Bio fair back in 1992, at its original venue in Rouffach. I have just realised that I have been drinking natural wine since the 90's and that feels pretty cool. I was in on this, without even knowing it.
The co-founder of the foire was Henri Bannwarth, and back in 1964 his Alsace domaine was the first to "convert" back to organic production.
Jean-Pierre and Chantal with their son Thomas, were all set with a stand at this years fair. I am looking forward to the 2021 edition, with fingers crossed again.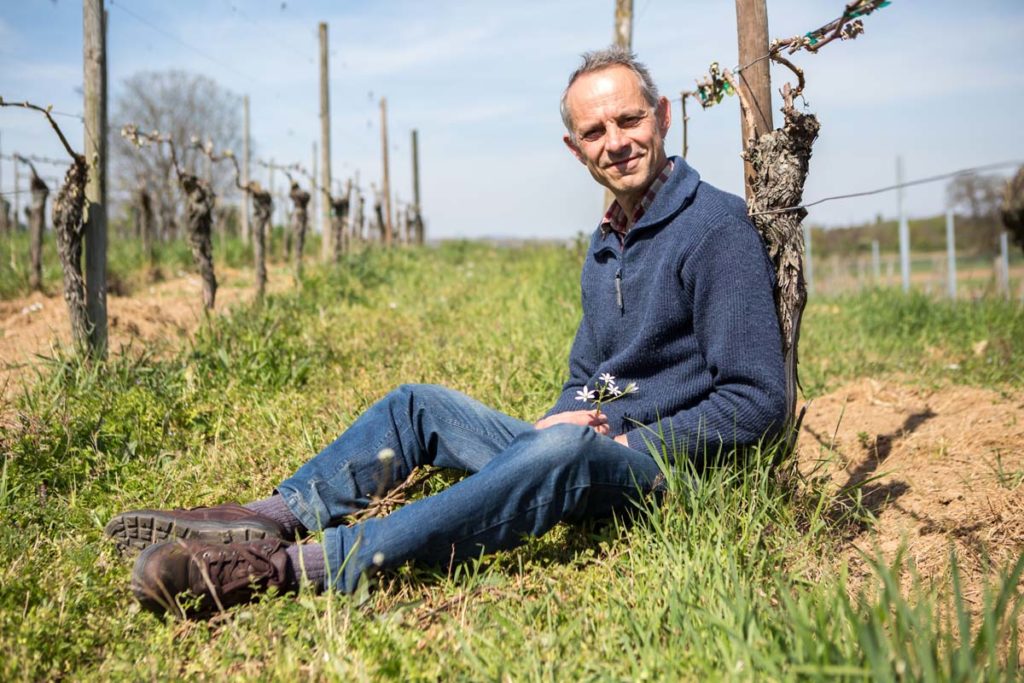 Jean-Pierre Frick in the Rot Murlé vineyard in the spring of 2017 – photo by benoitcortet.com
–  the project  –
The Lost In Alsace Project is focused on two main areas; providing a platform for "les vignerons artisans d'Alsace" and secondly, a follow up and reporting of the major events, twists and turns and initiatives that shape what matters with Alsace wine today. As with any "old world" wine region, there are plenty of issues, degrees of bull-shit, and bad attitudes stuck in the industrial agricultural recent past. We will be giving all that sort of stuff a body swerve as we firmly focus on all that vibrant, forward looking, energy that is currently buzzing in the region.
We are big supporters  of producers who practice organic or biodynamic husbandry in the vineyards. Vignerons who are looking after the earth. In fact, that is the foundation of our interest. And we love winemakers that carry this attitude through to techniques in the cellar; with natural fermentations, the use of traditional and non-traumatising physical methods, and a healthy disrespect for the use of additives.  These are the foundations that allow winemakers the opportunity to express a sense of terroir, a sense of wine that comes from a place, from a time with the input of human skills and attitudes. With a lot of attitude. That takes us into a space where we are mainly focused on, what can loosely be termed, natural wine.
# splash page photo by Tristan Vuano  –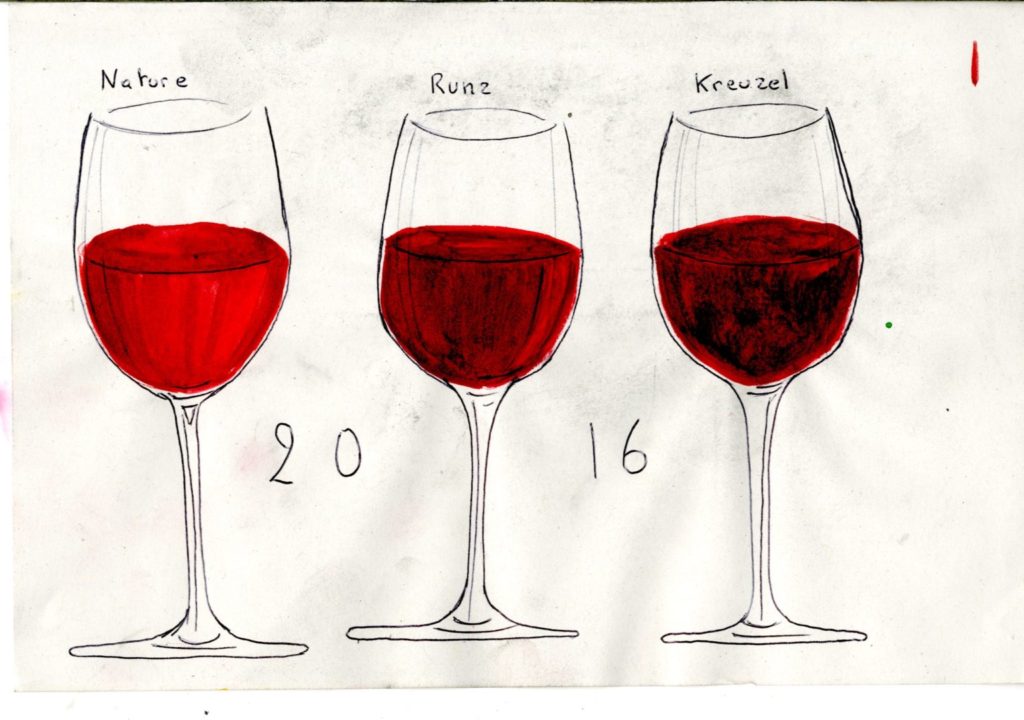 Three shades of red from Lucas Rieffel – captured by Mona Neilson – website here
[/fusion_title]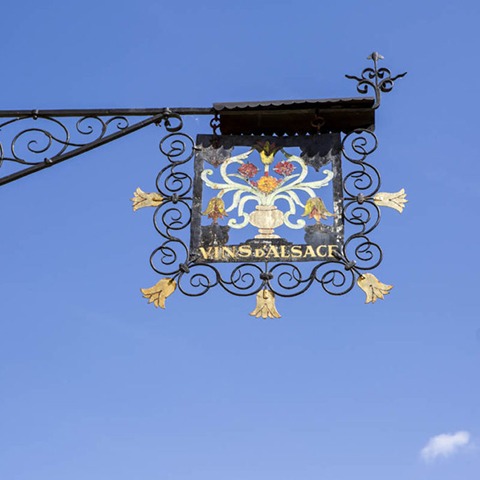 What's going on in the Alsace wine region at the moment ? Quite a lot. We start by looking at  projects around wine classification and an upsurge in activity from producer groups.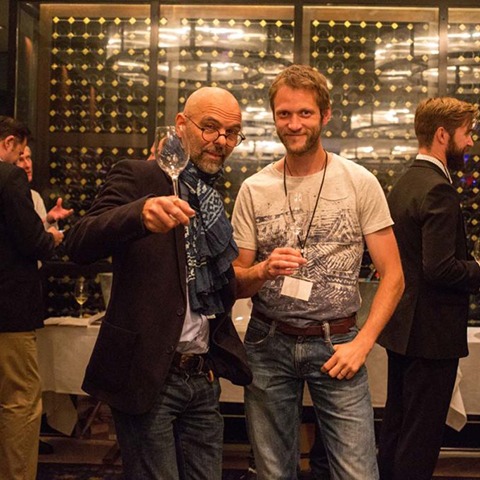 We will be profiling a series of reference domains that are making a difference and setting the new standards for Alsace wine. In the shot André Ostertag and Antoine Kreydenweiss in New York.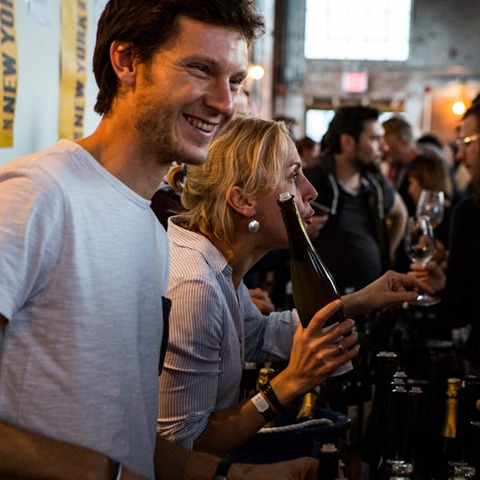 Includes: 2018 growing season and harvest update, Pinot Noir as a Grand Cru variety, the ACT association. And, a little gem of an interview  with Patrick Meyer at the Vins Libres salon.