Patrick Meyer December 2018 " the best thing a vigneron/ne can do, is to plant trees, lots of them." This advice has been implemented big style in 2021 and even more so in 2022.
Main photo by Tristan Vuano www.avuedecoucou.com
Into March
Already into March after a short and busy February. It is still catch up visit time, with an eye on a project we have cooking. So in date order I knocked on the doors of Gerard Blaess, Philippe and Charles Brand, Christophe Lindenlaub, Bruno and Theo Schloegel at Maison Lissner, Clement and Sylvain Goepp, Yannick Meckert, Jean-Pierre Frick, Heidi and Hubert Hausherr.
At the beginning of March, I spent a fact checking afternoon sitting in a large armchair at Le Vinophile in discussion with Michel Le Gris. Michel opened his wine shop in Strasbourg in 1984 (quite a date). As Jean-Pierre Frick once told me, "Michel was the first outlet to buy, sell and defend the wines from the beginnings of the Alsace natural wine efforts."
Another big tick in the natural wine box was the Michelin star awards for Deja in Strasbourg and Enfin Barr, in Barr. A first star apiece for two new restaurants that have a wide ranging selection of natural wines on their lists. Sharing the Michelin sommelier award was Cyril Kocher who works the cellar at the Thierry Schwartz restaurant in Obernai. A restaurent with one red and one green Michelin star, and I suppose Cyril's award is like the wine star award. A massively deserved gong for the gestion of an extraordinary cellar and the astute matching of bottles with the customers food choices.
January 2023 – a new year

Happy New Year and all that, and with this new year we will attempt to blog post our monthly goings on. So, its out the village gate into the big Alsace to see what is going on.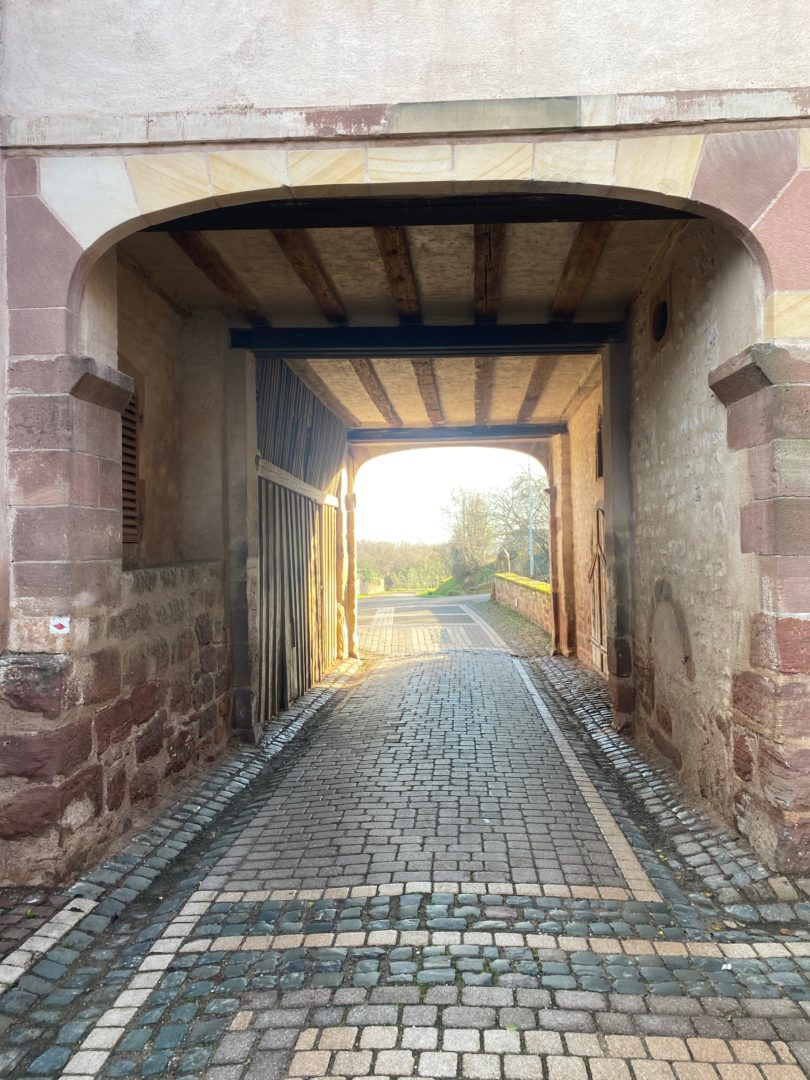 The year got off to a busy start with tastings and general catch up visits to Jean Francois Ginglinger down in Pfaffenheim, Christian Binner and the Geschickt set ups in Ammerschwihr, Florian and Mathilde Beck Hartweg in Dambach-la-Ville and Patrick and Mireille Meyer in Nothalten. A couple of freezing cold days were spent planting trees and hedges with Gerard Blaess (Domaine Petit Poucet), which was a follow on from some December tree planting with Leonard Dietrich in Dambach. At the end of the month I attended the premier of Panorama – Histoires de Vin Naturel, a film by Nicolas Dedouits. Nicolas and his partner Lilli run the Sauvagere domain and we were delighted to have them at the Phare o Vins wine fair, held in Strasbourg last November.

– the project –
The Lost In Alsace Project is focused on two main areas; providing a platform for "les vigneron.ne.s artisans d'Alsace" and secondly, a follow up and reporting of the major events, twists and turns and initiatives that shape what matters with Alsace wine today. As with any "old world" wine region, there are plenty of issues, degrees of bull-shit, and bad attitudes stuck in the industrial agricultural recent past. We will be giving all that sort of stuff a body swerve as we firmly focus on all that vibrant, forward looking, energy that is currently buzzing in the region.
We are big supporters of producers who practice organic or biodynamic husbandry in the vineyards. Vignerons who are looking after the earth. In fact, that is the foundation of our interest. And we love winemakers that carry this attitude through to techniques in the cellar; with natural fermentations, the use of traditional and non-traumatising physical methods, and a healthy disrespect for the use of additives. These are the foundations that allow winemakers the opportunity to express a sense of terroir, a sense of wine that comes from a place, from a time with the input of human skills and attitudes. With a lot of attitude. That takes us into a space where we are mainly focused on, what can loosely be termed NATURAL WINE.
And there is more to it than that, as the Lost in Alsace Project is interested in the community around natural wine; the winemakers, the producer associations, the retail outlets, the wine bars and restaurants, the importers, the distributors, the journalists, the authors, the publishers, the barrel makers, the artists doing labels and posters, the wine fairs and salons, and most importantly all the workers involved in making this all whirr and rattle along. And, of course the humble masses who buy and drink the stuff.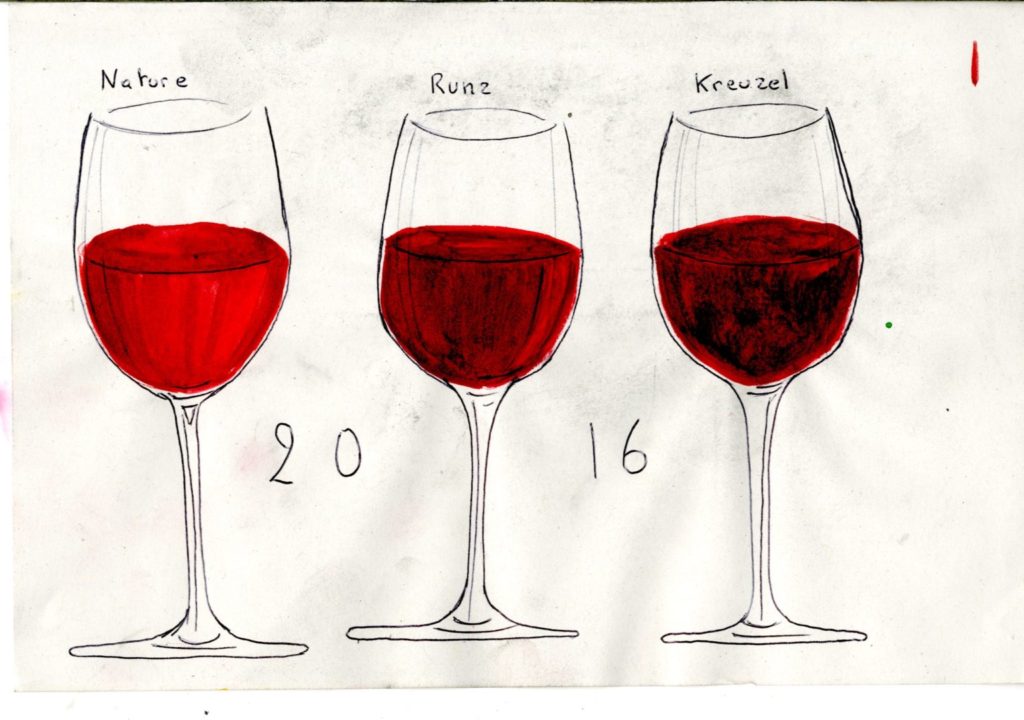 Three shades of red from Lucas Rieffel – captured by Mona Neilson – website here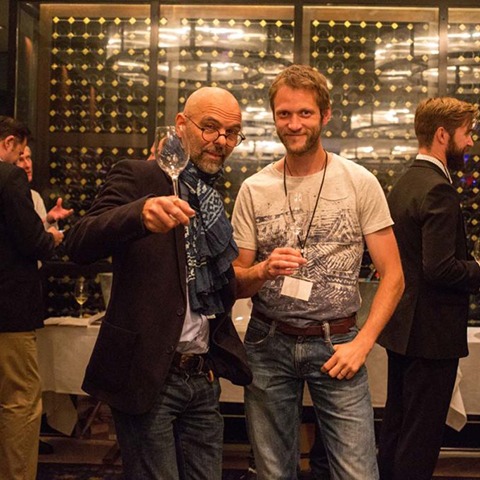 We will be profiling a series of reference domains that are making a difference and setting the new standards for Alsace wine. In the shot André Ostertag and Antoine Kreydenweiss in New York.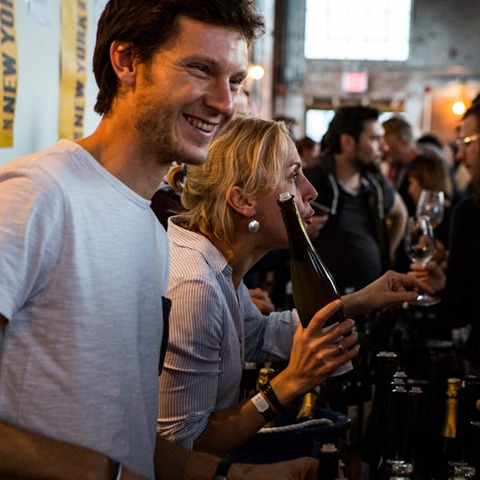 Rolling blog, a few specific stories, and a little gem of an interview with Patrick Meyer at the Summer Fascht inaugural fair, back in 2017.