News from the RAW wine fairs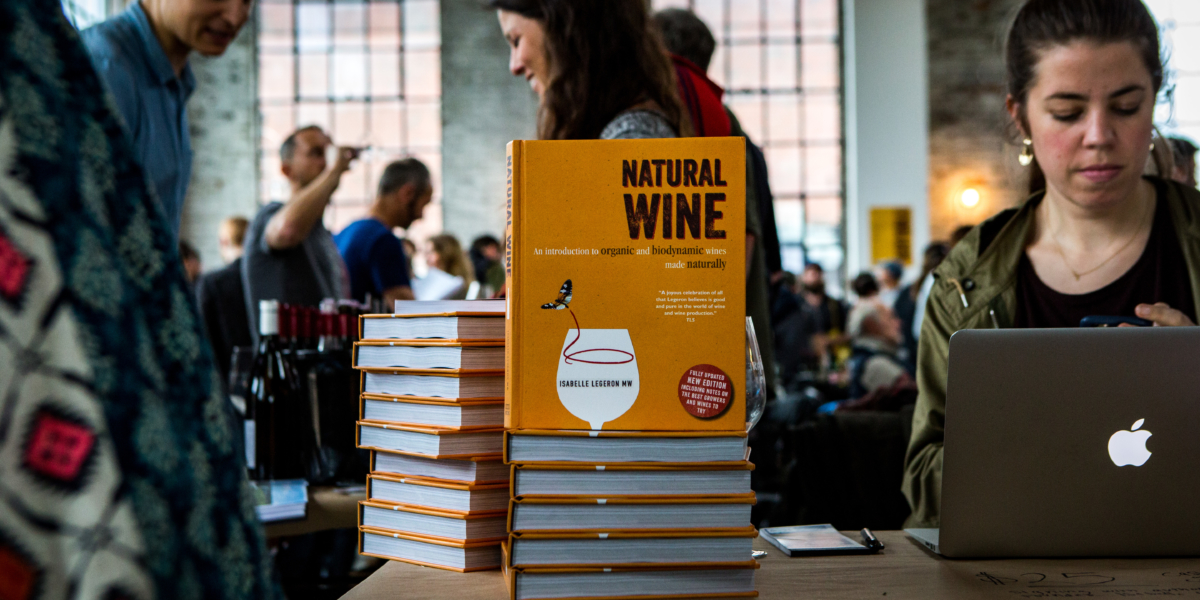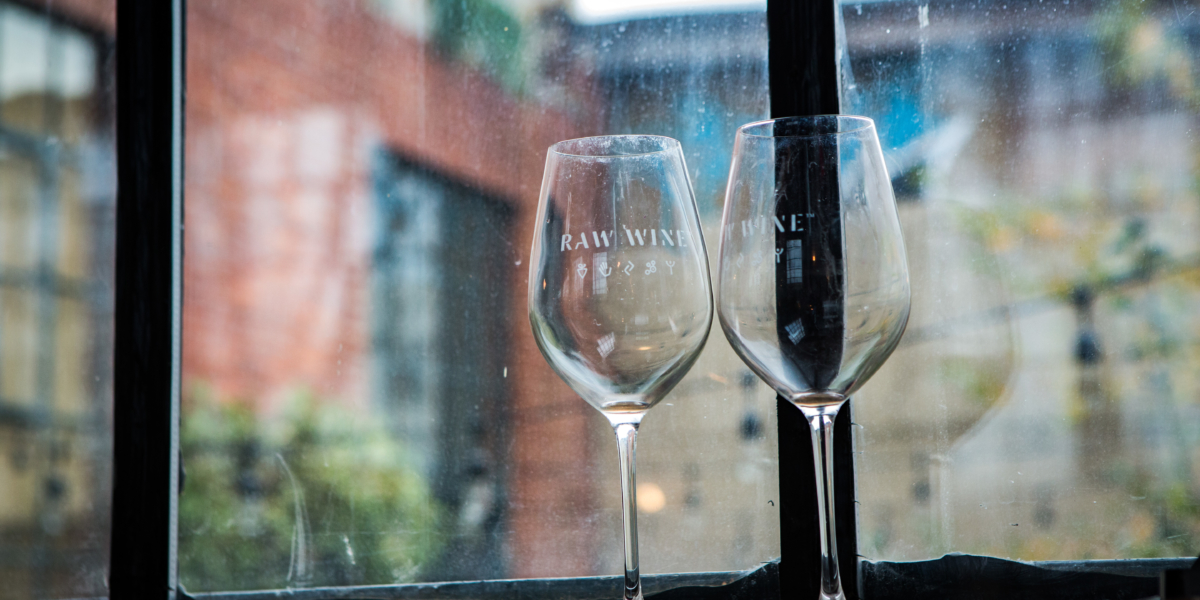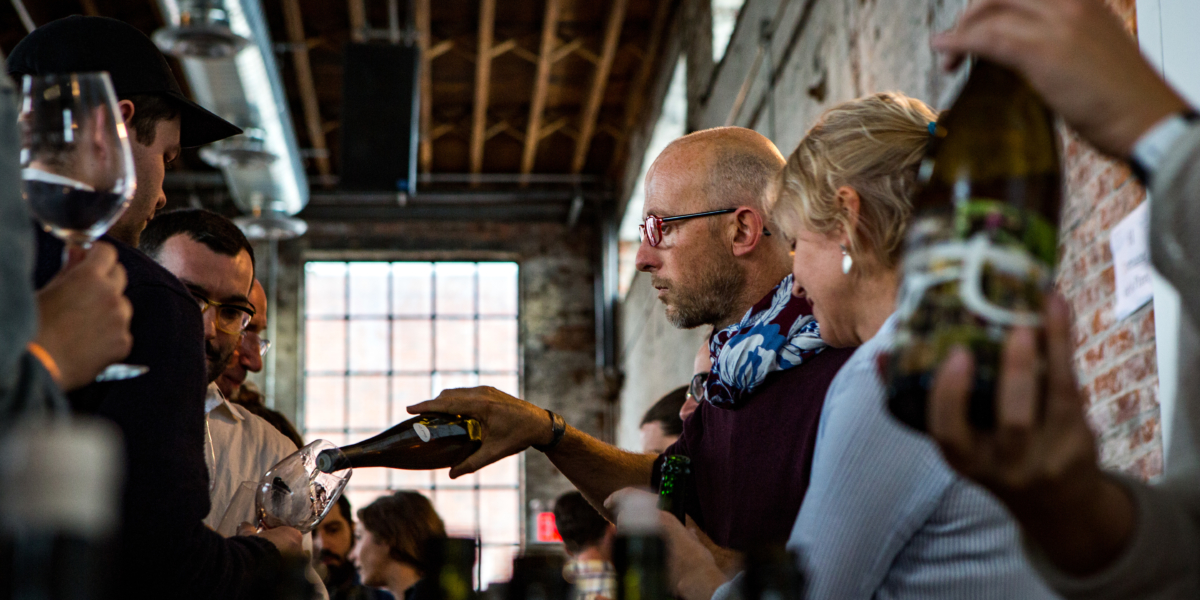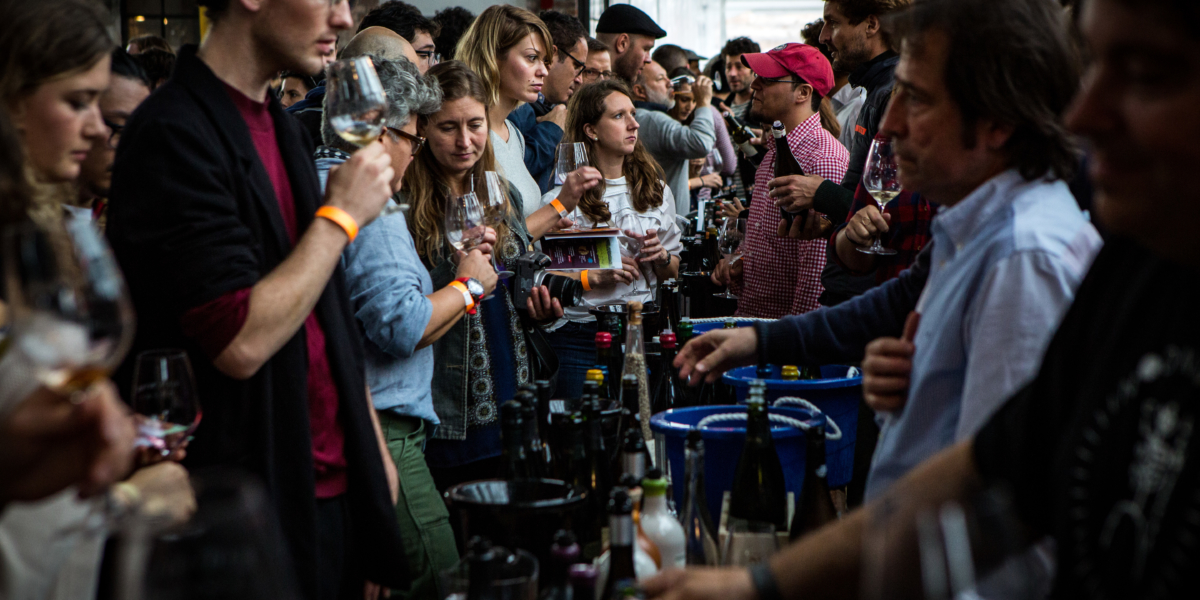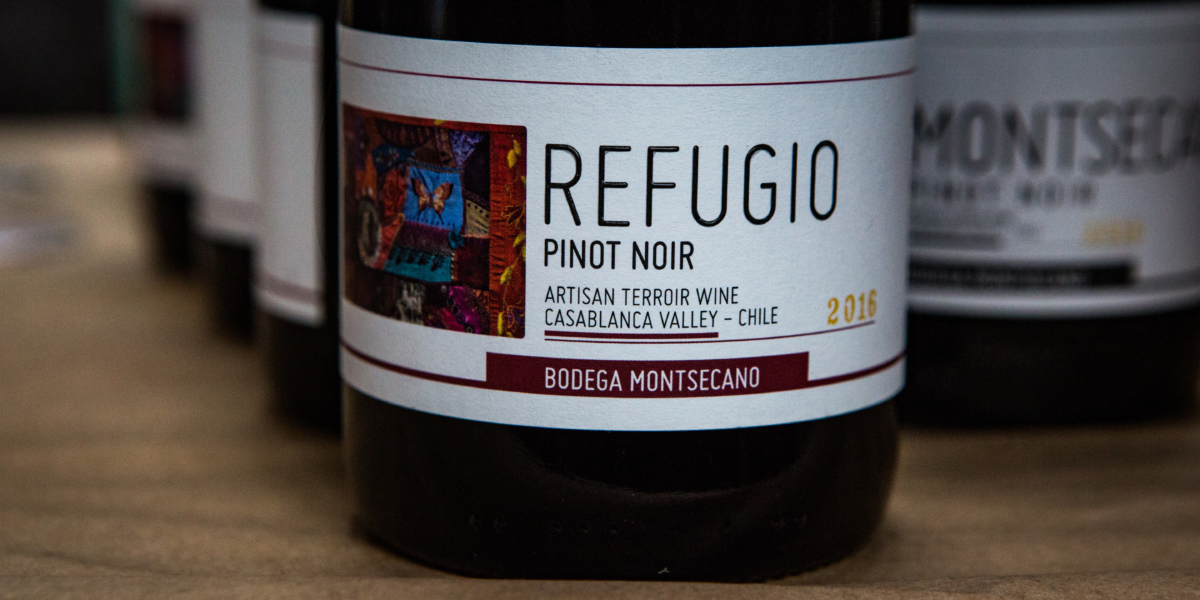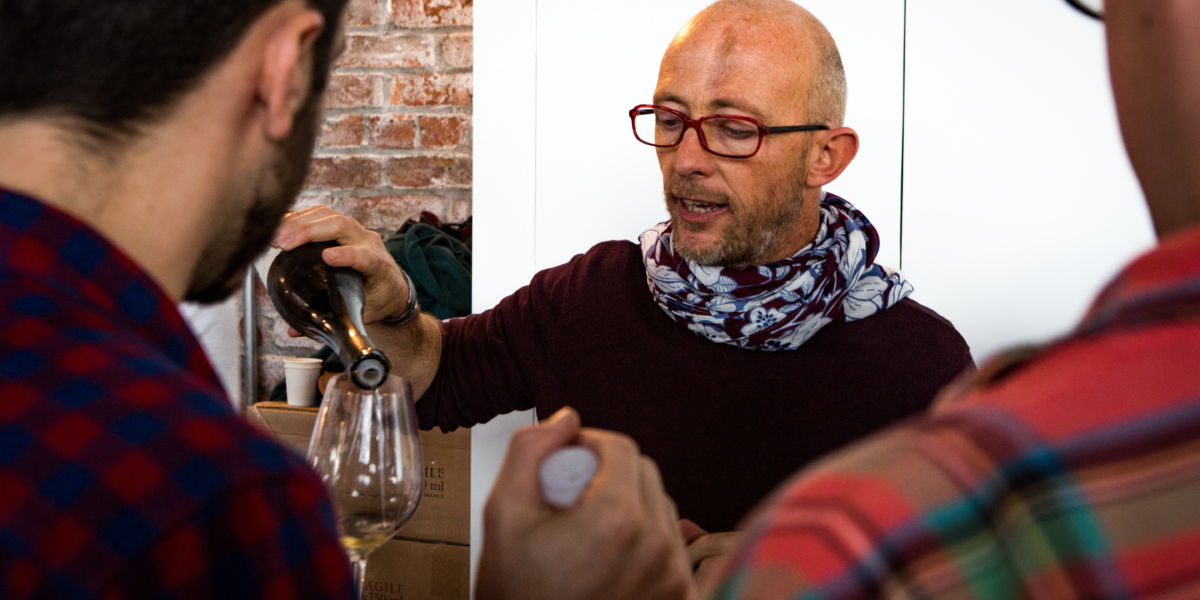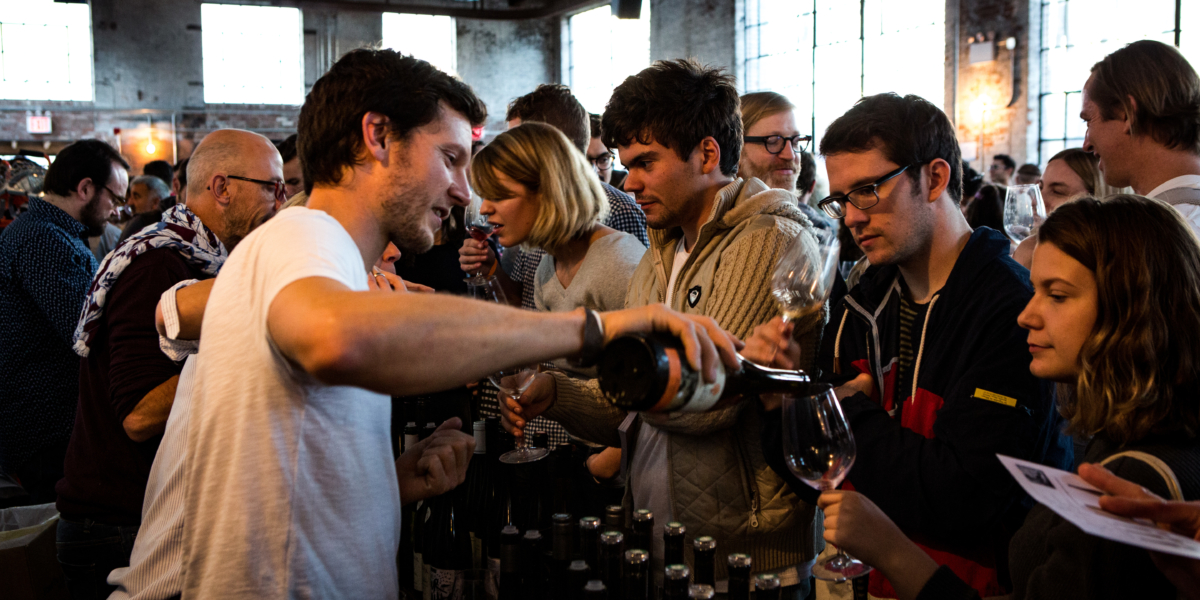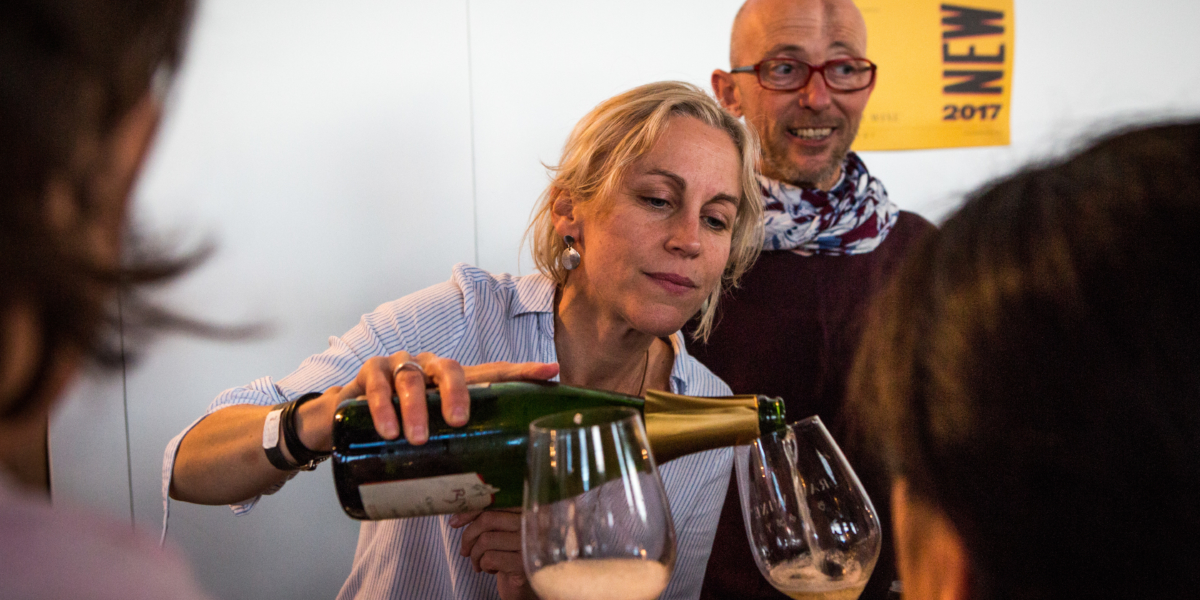 Alsace "Startups" at the New York and Los Angeles RAW Wine Fairs
The RAW wine fairs now cover four venues: London, Berlin, New York and Los Angeles, with the U.S. events held during two weekends in November. RAW showcases producers of organic, biodynamic and natural wines who practice low intervention in the cellar. It's a big deal on the international stage for the natural wine movement and these are well-attended events with lots of associated sideshows. Check out the rawwine.com websites for loads more information.
Enjoy the photographs from Benoit Cortet which give the feel of the energy and engagement at RAW.
There were two Alsace representatives at the New York and Los Angeles events and Back In Alsace managed to visit both during the October harvest season. The word "representatives" is deliberate as one is a new domain and the other a new business and wine community venture.
There was a third Alsace presence at the RAW fairs, with the Bodega Montsecano wines from Chile's Casablanca Valley running a stand. Far from Alsace of course, but this domaine is a start up run by André Ostertag from Alsace and the photographer Julio Donoso. The estate was totally replanted in 2005 and the end product is biodynamically farmed pinot noir, raised in concrete egg vats.
This startup tag leads in nicely to the other two start-ups back in Alsace. In alphabetical order the Vignoble du Reveur run by Mathieu Deiss and Les Vins Pirouettes, by Christian Binner and Company, as it reads on the label. Full profiles of both set ups will be coming soon on Back In Alsace, but for now here are the summary views.
Mathieu Deiss (from the landmark domain Marcel Deiss in Bergheim) had the chance and challenge to take over his maternal grandfather and uncle's domain in Bennwihr.  This happened progressively from 2013 to 2016 and he now manages the full seven hectares of these vineyards. The cellar work is done back in Bergheim.
All parcelles are organic or biodynamically farmed. All wines have natural yeast fermentation and the various cuveés are raised in traditional foudres or ceramic amphores.  Le Vignoble du Reveur presented six wines at the RAW weekends. The cuveé Singulier, a Riesling/Pinot Gris 50/50 mix, with 14 days maceration and raised on the lies for 12 months in an Alsace foudre. We tasted this at the domaine and the wine had a light gold colour, with a touch of white pepper and white flowers on the nose, nice and full in the mouth, dry with some tannins and a certain precision and energy. Also presented was the cuveé, Un Instant Sur Terre, a Gewurztraminer/Pinot Gris 50/50 mix, with six months maceration and raised in an amphore. The wine had mid orange colour, quite amer on the nose with citrus peel, almost dry with a great depth and a full finish. A well-defined and interesting complexity in this wine.
Les Vins Pirouettes is even more of a sparkling new startup, with the wines first appearing in January 2016. Ammerschwihr winemaker, Christian Binner, runs the effort jointly with two Chatenois based oenologs, Pierre Sanchez and Xavier Couturier, with Vanessa Letort making up the team on the commercial and marketing side. The concept was to work with a range of winemakers who had been selling wine in bulk to negociants and move to a high value artisanal approach. That range has extended to ten domaines with around 20 cuveés being produced to date. The wines come from organic or biodynamic viticulture with a natural wine approach in the cellar. The wines are named after the winemaker: " Le Riesling d'Olivier ", " Tutti Frutti de Stephane ", " Saveurs d'Eric ", well the winemakers first name. We are still asking about that marketing ploy, and it's easy enough to figure out the origins. Olivier Carl from Dambach-La-Ville, Stephane Bannwarth from Obermorschwihr and Eric Kamm from Dambach-La-Ville, for the three mentioned here.
Much of the marketing is based on Christian Binner's reputation and network. The wines are not available at the domaines but are sold directly by the individual winemakers to restaurants, importers and distributors. Around 50,000 bottles were shifted in the first year with most going to export in Japan, U.S.A., Norway, Sweden, Denmark and the U.K.
Four wines from Les Vins Pirouettes were presented at RAW by Christian and Vanessa; Le Brutal by the gentle giant Jean-Marc Dreyer from Rosheim, Le Pinot Noir by Hubert and Christian Engel from Orschwiller, the Tutti Fruti and the Riesling Bildstoeckle from Stephane Bannwarth. Fabulous wines with vibration, energy and buvability.
Next door stands In New York, Mathieu Deiss from Le Vignoble Du Reveur and Vanessa Letort from Les Vins Pirouettes – smiling and pouring and looking so fine.