Interview with Patrick Meyer
Notes from a short discussion with Patrick Meyer, at the Summer Fascht  natural wine event.
The event was held at Christian Binner's winery in Ammerschwihr in July 2017.  After our April visit to Patrick Meyer's winery and vineyards in Nothalten, this was a great opportunity for a follow-on dialogue (in French) on the broader, natural wine movement in Alsace.
Back In Alsace: This is quite a milestone, a stand alone, natural wine salon with 22 winemakers being held in the heart of the Alsace wine region. Can you explain some of the background that has led up to this event?
Patrick Meyer: The natural wine community is like a space where winemakers can come into. Where they can operate. These spaces were created and developed earlier in other regions. Always by individuals who were detached from the main tendency and approach to winemaking in these regions. This was really an open movement. There were regions rich for this, like the Jura, the Auvergne and the Loire. This created certain energy and in Alsace that energy, to some extent, flowed in from the outside. The difference and space due to this energy allowed the next generation (the young winemakers) to come in and get established.
Back In Alsace: You are one of the four organisers, really organising families, of the Alsace biannual Salon de Vins Libres. This brings together around 50 mostly French winemakers. In 2016 a mini-salon of 14 local winemakers was added to the event. The sixth edition is planned for May 2018.
Your involvement with this group of four (Christian Binner, Jean-Pierre Frick, Bruno Schueller and yourself) has attracted the tag of the Four Mousquetaires in the French wine community and sometimes The Gang of Four with the Anglophone community.  What's your take on that?
Patrick Meyer: Laughing. That gives the impression of the culture of the personality. We see ourselves more as plasterers (les platriers) that help to provide a framework. Its more a big family set up, it's a state, and it's an attitude of mind from the larger group. The general principle comes from the group not from a few individuals. This is a horizontal rather than a more vertical, elitist approach to working as winemakers. We work in respect rather than in conflict. When you operate in elitist modes it ends up with wines without life (vins sans vie).
The road and journey are important with this horizontal approach and there is much less emphasis on what's done and in specific accomplishments.
Don't forget the commercial opportunity helps. We have passed the bar (une certain franchise) and this is undoubtedly a big plus.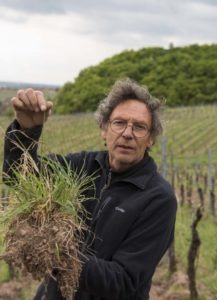 Back In Alsace: So coming back to today, how do you view this salon with 22 wine makers, plus the associated groups putting on food, music and distractions to make the day (and evening) work?
Patrick Meyer: Laughing again. To build something important takes a long time. Then all of a sudden it can accelerate and develop really fast. Today shows how this has happened to some extent in Alsace. The producers attending today are here because they like being here. They are part of a family, part of the family. Some outside supporters have also helped the approach, notably Alice Feiring (journalist and author), who at certain times was a lone international voice in understanding and covering the efforts around natural wine. #
Laughing again. Don't forget that now the commercial opportunity helps. We have passed the bar (une certain franchise) and this is undoubtedly a big plus.
# Published summer 2017: Alice Feiring (with Pascaline Lepeltier, MS)– The Dirty Guide To Wine. A guide organised by bedrock and soil type. Includes the Postscript: Alsace Stands Alone.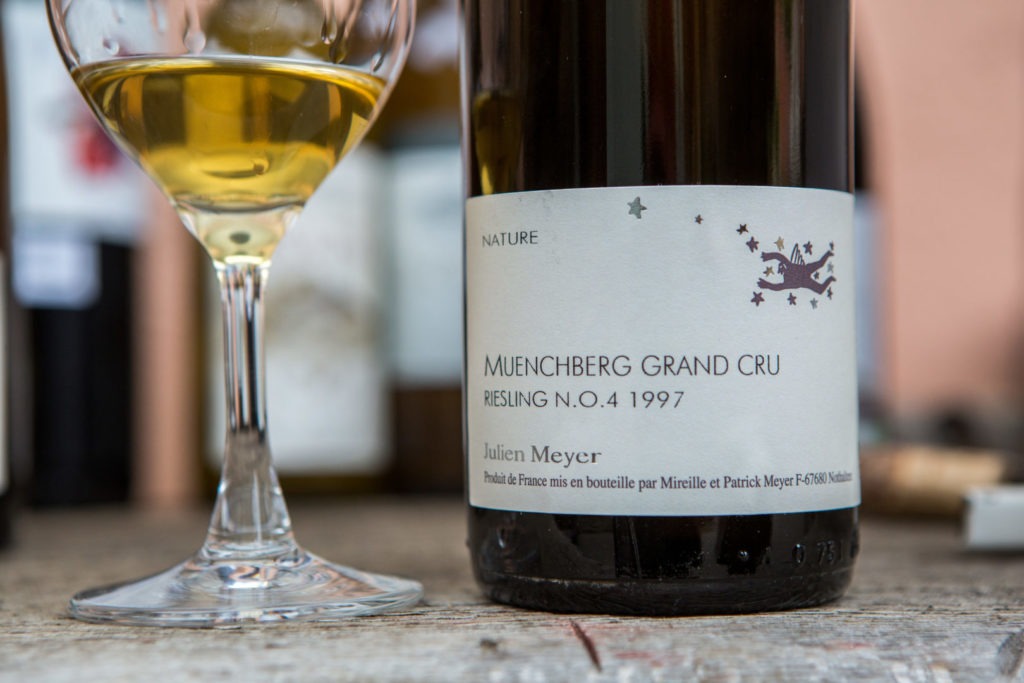 Patrick and Mireille Meyer, from the wine village of Nothalten – Riesling 1997
Grand Cru Muenchberg (the monks hill). 18 hectares of ancient sandstone, littered with rocks and bits and pieces of volcanic stuff. A closed, crescent of a vineyard, that resonates with some sort of focused energy. It's an extreme place that takes the heat of the summer sun, cools down quickly in the evening, and drains like a sieve.
We tasted (and drank) this fabulous Riesling in April 2017. A 20-year-old vin nature. Raised in the barrel for four years on the lees. The colour a limpid gold. A touch of petrol on the nose and then a full, vibrant, tense structure on first taste. A physical combination of amer salinity, complex citrus flavours and however you want to describe minerality. A wine with energy and freshness. A wine with a sense of terroir and true appellation. Always a great experience when a wine makes you feel humble.