About Back In Alsace (Summer 2017)
The Back In Alsace project is an ENGLISH language information guide to the wines of Alsace and the people who make them. Well, at least some of the wines and some of the people.
The site is geared to looking at the contemporary side of a classic product, Alsace wine. Looking at important developments, profiling the key producers and reporting on events. A sort of modern, progressive view on what's going on with Alsace wine – the best way to look at an industry started by the Romans. Though the first vines were almost certainly cultivated by the Celts.
And these "growers" are the ones meticulously farming their vines with organic and biodynamic methods, then switching to "winemakers" as they carefully seek to express the various terroirs in the confines of the cellar.
The marker for the project comes from 10 years living in Alsace from the early nineties. Way back then, understanding the Alsace wine region was a challenge for a non-French speaker. There was little information available in English that covered the dynamics of the wine region beyond the top level, general tourist information.
Two key books were published around this time that helped improve the situation, but also acted as strong reminders of the dearth of information. The first of these books was Sue Style's, A Taste of Alsace, a very pretty guide to the regions gastronomy, but stuffed full of detailed profiles on the established chefs, wine makers and artisans who set the standards. The book covered the usual suspects of the moment, but at least we got 160 pages in English. The second book was Tom Stevenson's, The Wines of Alsace. A 600 page pivotal reference to all things important in Alsace wine culture: the wine makers, the villages, the key vineyards, the politics, the history and a relatively light dose of folk-tales. Out of print and a collector's item – if you are seriously interested in Alsace wines and don't have a copy, track one down.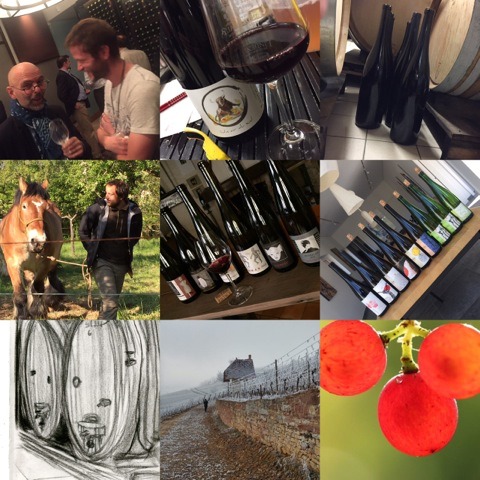 Of course, things have improved with detailed Alsace sections in wine books, reviews and magazines. Plus the Internet hosts many key sources of information – we will refer to some of these in other parts of this web site.
Overall, the information in English is still a bit sporadic, so Back In Alsace plans to provide an on-going, frequently updated and topical view of all things that matter around the cycle of growing grapes, making the wine and getting it into that Alsace flute bottle.
For the record – The BACK IN ALSACE name is inspired from the line in the Van Morrison song, Saint Dominic's Preview:
" Meanwhile back in San Francisco, we're trying hard to make this whole thing blend."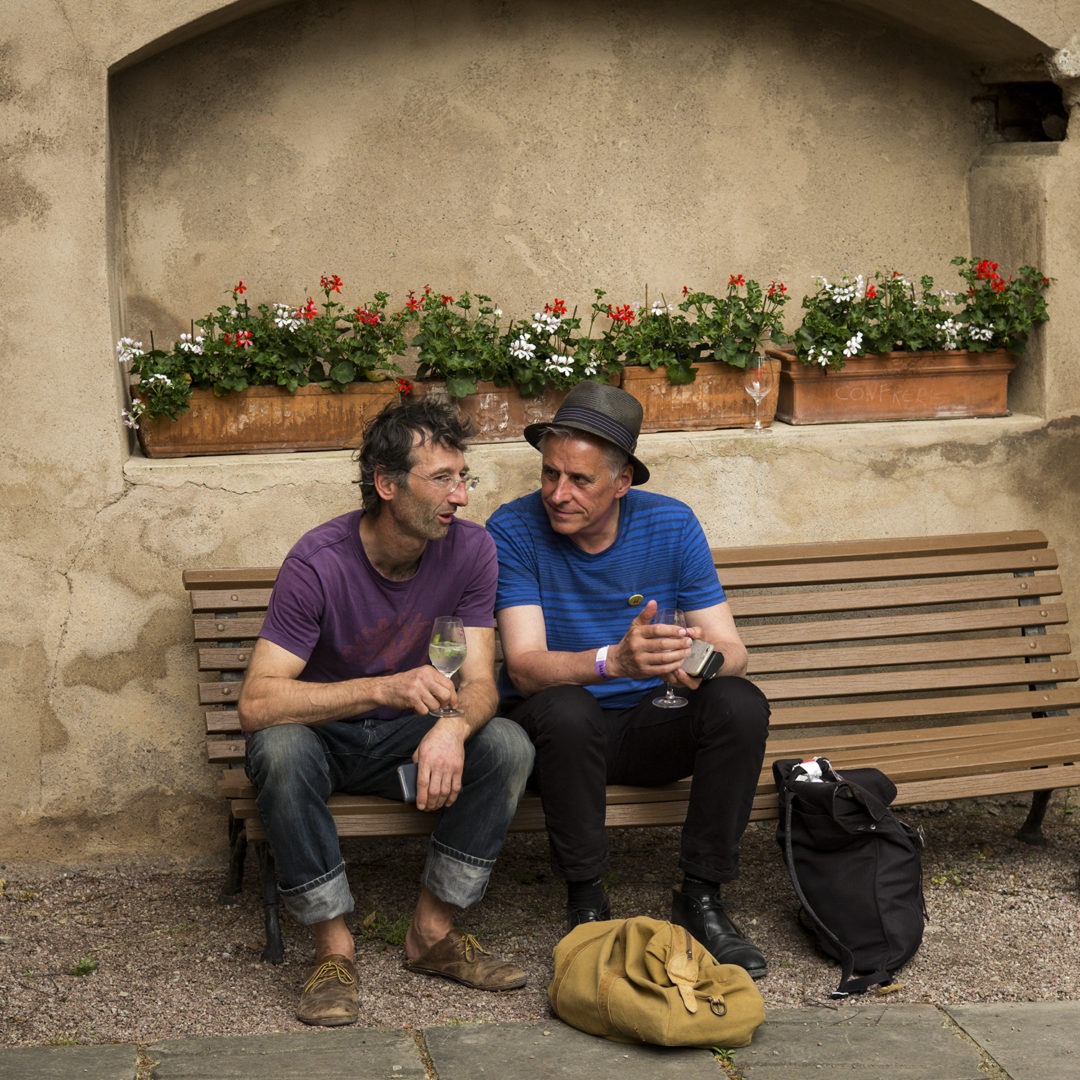 Frédéric Geschickt on the left at the 2018 Salon des Vins Libres