The first time we ran into Catherine Riss was on a tasting visit to Lucas Rieffel's winery in Mittelbergheim. She provided that extra bit of pressure to help keep us focused, as we worked through a line-up of 15 wines.  That was back in July 2015, with the young Ms. Riss already up and running with her Alsace "start-up" and carrying an immediate reputation with the wines from her first vintages.
Catherine farms 3.5 hectares of vineyards around the village of Reichsfeld, 40 kilometres south west of Strasbourg. Her numerous parcelles sit between the big reputation vineyards of Andlau, Barr and Mittelbergheim to the north and Nothalten to the south. Vineyards where the likes of Meyer, Kreydenweiss, Kleinknecht, Ostertag, Rieffel, Rietsch and Stoeffler, amongst others, set the standards that have an international reputation for artisan relevant wine. Catherine's winemaking facility is located in Bernardvillé and she lives in nearby Mittelbergheim.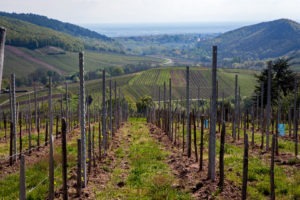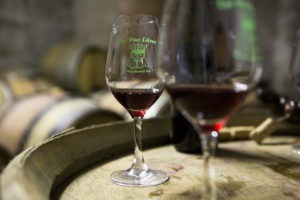 Catherine Riss is running a start-up, that's clear.  And this is one of the few start-ups in Alsace, a region where it is more common for winemaking families to go back several generations. Her background is in the restaurant business and her family's restaurant is in Gerstheim, a village that sits on the French bank of the River Rhine some 35 km to the east of Catherine's vineyards. The restaurant is aptly named, Au Bord Du Rhin.
The formal part of her wine education kicked off with a BTS in viticulture in Beaune, then a Diploma in Oenology in Dijon. She got "stuck" a bit longer in Burgundy with an internship at Jean-Louis Trapet on the Cote de Nuits. Not a bad place to develop a taste for Pinot Noir.  Trapet also has the Alsace connection through his spouse Andrée, with her 14 hectares of top-notch vineyards around Riquewihr in the Haut Rhin.  With that setup, we are sure Catherine got to taste the occasional Alsace cuveé when she was working away in downtown Gevrey-Chambertin.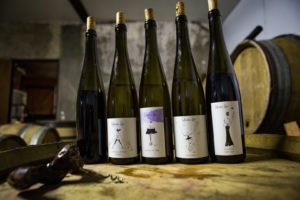 Further internships followed in the south of France and then the road led back to Alsace, with an assignment for la maison Chapoutier, who were establishing their Alsace operation in Reichsfeld. This gave Catherine some great experience managing the vineyards in the immediate area and getting used to the responsibility around the particular cellar conditions and activities.  Enthusiastic to get started with her own domaine, she took over 1.3 hectares of vineyards in 2012 and she has built this up to 3.5 hectares in 2018. Encouragement and some assistance came from Antoine Kreydenweiss and also from Lucas Rieffel where she made her first vintages in the Rieffel cellars in Mittelbergheim. The big jump forward happened in 2015, when she set up her own winemaking and storage space in Bernardvillé.
The Vineyards and the Wines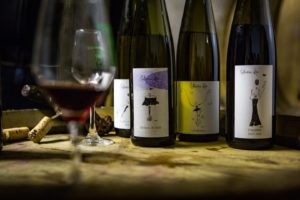 Current annual production is around 12,000 bottles from the 3.5 hectares, with approximately 50% going for export to Japan, Denmark, the U.K.  and the U.S. The vineyard parcelles were progressively worked towards organic production as soon as they were added to the domain. 12k bottles, a thousand cases for our American pals and to save you some CPU time that's around 35 hectolitres/hectare. Meaning, concentrated yields in Alsace.
Now, her vineyards tucked in just south of Andlau and north of Nothalten, are steep and run high up to the forests that mark the start of the Vosges. The parcelles are scattered over two distinct soil types around the village of Reichsfeld. One of the soil types is typical Vosges sandstone; fast draining, poor and with a good capacity to heat up quickly. The second  is a crumbly blue schist on the Schieferberg lieu-dit. Vineyards with this schist soil type are rare in Alsace, with the Schieferberg sitting on a band that runs southwest from Andlau. The Schieferberg has a well-constructed dossier around the demand to categorise certain Alsace vineyards as Premier Cru.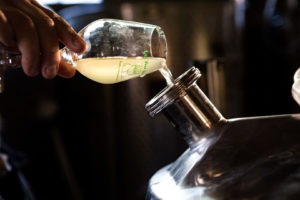 The season here is generally late starting (tardive as they say in French), due to the topography and the proximity to the Vosges and its forests.  This is a factor in bringing freshness and good acidity to the Rieslings and also the Pinot Noirs. In his modern classic, The Wines of Alsace, Tom Stevenson categorizes the vineyards around Reichsfeld, Bernardvillé, Andlau and Nothalten as "mountain slopes". Catherine is working in a particular micro region of Alsace, which gives her the chance to stamp an individual signature style to her wines.
Camille Rivière, Catherine's U.S. importer based in New York, described that individual signature style as "Funambule, queen of precision, bottled pleasure with a dangerous drinkability." Funambule is French for tightrope walker, so you can see the reference to precision, equilibrium and a delicate fine balance in the wines. Nicely summed up by Camille, sounding like some cool, modern day wine poet.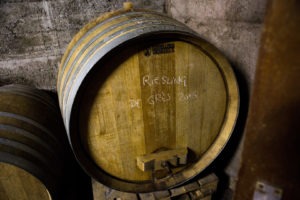 We have visited/tasted at the domaine five times and also sampled through the range of wines at two recent wine salons. This included the full line up of bottled wines and wines still in development and drawn from the barrel.
Currently there are six cuveés produced and available in 2018. Four wines from the grés/sandstone vineyards around Reichsfeld and two from the Schieferberg blue schist lieu-dit.
The delicately crafted labels are designed in collaboration with the Colmar based artist Julien Kuntz. They come with a big dash of humour and this fits very well with the fun names given to the various wines. The visual and verbal marketing is a breath of fresh air and far from the mundane, run-of-the-mill, use of castles, coats of arms and a sense of majesty, which so often weigh heavily on those Alsace flute bottles.
On the steep slopes, all fruit is hand harvested and brought into the cellar in small baskets/cajeots. This gets the winemaking off to a start with high attention to detail. The work carries on in the cellar, with each cuveé treated as a special case in terms of the techniques, which are low on intervention and high on patience.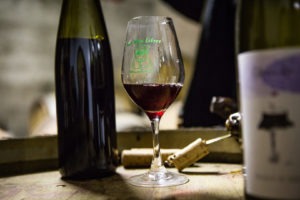 And the wines. None of your regular, same every year cuveés coming out from Catherine. This is artisan production from what can be regarded as a micro domaine. We would expect and also look forward to vintage variations. Not only based on the growing season but also influenced by cellar temperature conditions, which can have quite an influence on fermentation time and how the wines age on their lees. There is a definite style running through the wines and it's well described above by Camille Rivière; delicate, balanced, poised. You could even say posed.

Wines from the Grés/Sandstone soil type
De Grés et De Force – Riesling.
From the sandstone (gréseux) and permeable, windy and airy, high slopes of Reichsfeld, comes this delightful Riesling. The 2015 was aged on the lees in barriques for 11 months, before bottling. Clear with pale yellow reflects. Catherine's Rieslings are usually lightly filtered to encourage their delicate side. At our last tasting, the 2015 had rush of green and white fruits on the nose, with a lovely balance of freshness, acidity, gourmandise and salinity. Dry with a long finish. The 2017 is the current vintage on the shelves and on restaurant wine lists.
Dessous de Table – an assemblage based on Auxerrois and Sylvaner.
The base is always Auxerrois and Sylvaner, with either Gewurztraminer or Riesling added, depending on the year. The 2016 is a 50/40/10  Auxerrois/Sylvaner/Riesling mix.  The parcelles run up to 400m on the slopes and this drives a delicate light balance into these base varieties, which can have tendency towards roundness.  Co-fermented to encourage a "common energy." Aged in used burgundy barrels. Unfiltered but almost colourless in appearance. On the nose, white flowers and fruits and a mild hint of spices. There is roundness on tasting, but its well balanced with fresh acidity and a complex range of fruit from pear skins to agrumes. There is a hint of gingerbread spice on the delicious finish.
Empriente – Pinot Noir.
This high altitude Pinot Noir is brought into the cellar in small baskets to keep that delicate touch running from vineyard to bottled wine. The 2015 then went through 14 days maceration on whole bunch grapes with once daily pumping over. Ageing is in well-used burgundy barrels. A nice, deep ripe cherry colour, with spicy red fruits on the nose. Touch of tannins on the finish but that comes with the house signature, delicate finesse. One of these Pinot Noirs with that interesting balance between structure and fragility, even though 2015 is regarded as a "big" and hot year.
Pied de Nez – assemblage of Pinot Noir and Gewurztraminer
This is a Vin De France, 50/50 varietal mix coming from the sandstone vineyards.  The plan is to pick on the same day. The Pinot Noir is pressed directly and the juice added to the Gewurztraminer grapes, where it goes through a 10-day maceration.  Ageing is in used burgundy barrels. The 2016 had a cloudy pale orange appearance. The round aromatic volume comes from the Gewurztraminer with very fine hints of mango. The overall effect is again a delicate structure; totally thirst quenching that finishes super dry with hints of dried fruits.
You can check out your web translators for what Pied de Nez could mean to you. For us, it kind of means having the last word and snubbing your nose at something.
Wines from the Schieferberg Lieu-Dit  –  Schist soil type  
Riesling
Ah, the rare blue schist, stony and rich in iron and magnesium. Perfect for that mineral and nervous type of Riesling those Alsace Riesling lovers adore. But there is more to a wine than the dirt that it grows in. The winemaker has a big influence and Catherine brings that delicate precision and buvability to a wine that could get far too tight and vertical and closed up. Even with global warming this can be regarded as a cool climate Riesling. Great balance between acidity and fruit with a nice tramline of something mineral like wet stones, like crumbling blue schist. Ah of course, that's the dirt that it grows in.
The 2017 is still sitting in Catherine's Bernardvillé cellar. Most likely to be bottled in the spring, when its ready after 18-19 months of élevage.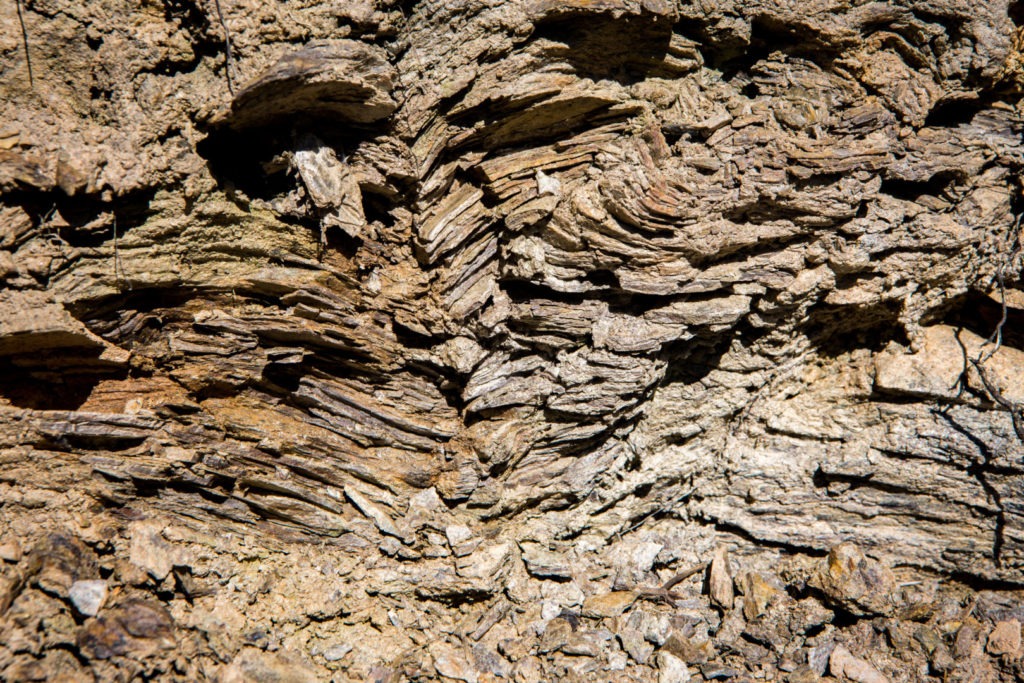 The crumbly layers of blue schist, where the vine roots dig deep.
T'as pas du Schiste – Pinot Noir
More play on the word game. Transition énergétique or a certain lack of substance?
This time we have Pinot Noir with the in-house approach of 15 days maceration and once daily pumping over. Pressed and moved into used oak barrels for ageing. A clear, pure ruby colour, with a touch of smoke on the nose both in the 2014 and 2015 editions.  All griotte cherries, complex hints of pepper and super light tannins on tasting. Again the meticulous approach brings a wonderful balance and freshness to this wine. The 2017 is the cuveé currently available.
More to follow on Catherine Riss as we track her path in this world of relevant new Alsace wines.