Christophe LINDENLAUB – Dorlisheim.
The Location –
Christophe Lindenlaub makes his wine in Dorlisheim, a large village on the Alsace wine route, 20kms to the west and a touch south of Strasbourg. It is definitely not one of these picture postcard Alsace "villages" and is partially joined to the town of Molsheim to the north. It's a working village, not a tourist village. Some trivia on Molsheim; it's the home of the ultra design Bugatti Motors, and was the home of a filling station designed by Jean Prouvé the French architect. That building was purchased as a single auction lot in 2014 and shipped to a private collection. In 2015, one of the last two remaining Prouvé filling stations in France, near Besancon, was designated as a national historic monument. Now, that's a different angle on the usual folklore that you get on the Alsace wine route.
The Winemaker
Now back to all things wine. Christophe Lindenlaub is the definition of a bundle of positive energy. He broadcasts total enthusiasm and a strong drive towards the future and what tomorrow is going to bring. Visits to the winery and encounters at wine fairs, leave you with a slice of the Lindenlaub enthusiasm and energy. This comes on the foundation of the Lindenlaub family running their vineyards since the 18th century.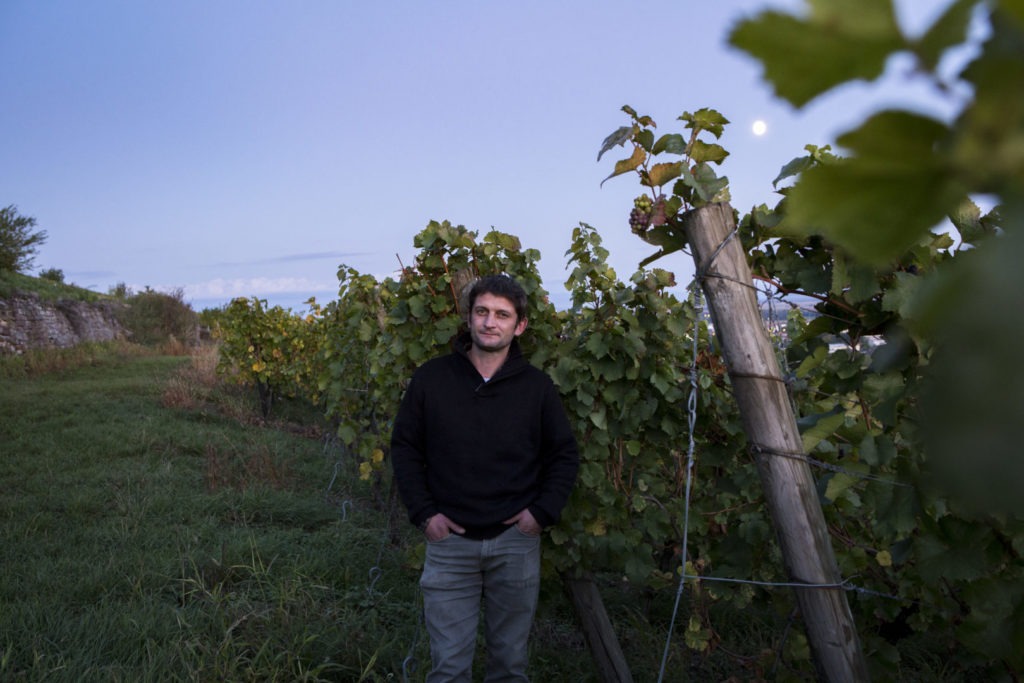 Christophe is one of a significant group of Alsace winemakers who went through a  "traditional" BTS at Rouffach. Something good must have been going on there judging by the current crop of what we refer to as relevant winemakers. An internship was next on the cards at Domaine Kientzler in Ribeauvillé, a producer of classic Alsace wines from four grand cru vineyards. Then more of an interest was quickly and strongly developed around working organically in the vineyards and following that through to an alignment in winemaking. Influences to this approach came in from winemaker Patrick Meyer, from oenologist and journalist David Lefebvre and from the herbalist and organic farming specialist, Eric Petiot.
The Vineyards and the Wines
The vineyards have been worked organically since 2009. The "bio" approach in getting something different and more from the vines quickly led Christophe to also wanting something more from the wines. That something was an expression of fullness and better definition from the careful work that went on before the grapes arrived in the cellar. The first natural wine was made in 2012 with a Pinot Noir cuveé. The outcome was a success and this was followed in 2013 with Sylvaner and then the natural wine approach was fully adopted in 2014.  The domaine now produces around 12 different cuveés each year.
Annual production is approximately 70,000 bottles with 40% going to export. The trade is worldwide ranging from Japan, Hong Kong and South Korea, to Canada, Denmark, Sweden, Spain, Germany, Switzerland and the BeNeLux countries. The U.S.A. and the U.K. were added to the list of export destinations in 2020. Good to see these anglophone importers waken up and catch on.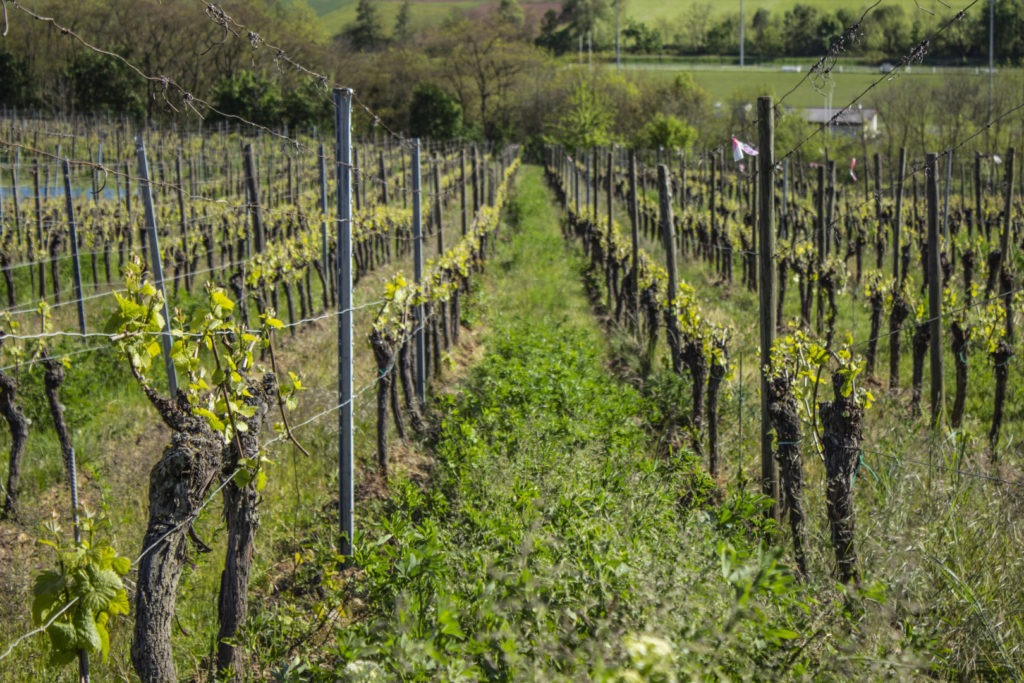 All this energy, activity and attitude are nicely reflected in the label design, where the Zen ENSO circle is adopted as the main motif. A symbol with many meanings: strength, elegance, single mindedness, and the acceptance of imperfection as perfection. Each label incorporates some animal or plant element inside the circle, which links back to the wine. A tense alert hare, for the Sylvaner cuveé Matin Fou (crazy morning). The label range signals a delicate and fresh approach, which is totally aligned to the modernity in the wines.
The philosophy is to produce wines with a coherent house style that has equilibrium between the Alsace terroir and a sort of traditional natural wine category.
The multiple vineyard plots are scattered around the hillsides of Dorlisheim and Mutzig. The soil type is predominantly clay/limestone (argile/calcaire), with a shallow layer of sandstone (grés) subsoil in the Mutzig plots. The Steirkopf lieu-dit is here, but Christophe does not indicate this on the Pinot Noir and Riesling wines that come from that vineyard.
With the natural wine approach, the wine making itself comes with a foundation of a multitude of decisions made by the winemaker, both in the vineyard and in the cellar. When to intervene and work the soil and the vines as the seasons peculiarities come and go. When to harvest, press, sense the fermentations, how long to macerate, pump over or punch down, run off, store, let the wines sit, worry, taste, taste and taste, bottle, pose, taste, decide its good to go. All this requires a huge dose of patience and thoughtfulness. A thoughtfulness and connectivity that is close to nature in the vines and in the developing juices in the cellar. This is not formulae wine making, this is artisanal, the work of an artist.
All fruit is handpicked and brought into a very modern cellar. Christophe works mostly with stainless steel/inox tanks with some Pinot Noir raised in traditional barrels. His philosophy is to produce wines with a coherent house style that has equilibrium between the Alsace terroir and a sort of traditional natural wine category. The focus on stainless steel makes it easier to "manage cellar work and helps towards a definition of freshness, vivacity, elegance and purity in the wines". This all fits together and the result is very much appreciated by us lot, back at Back In Alsace. That house signature includes a trace of minerality through the range, which shows in a salinity in taste as the wine finishes.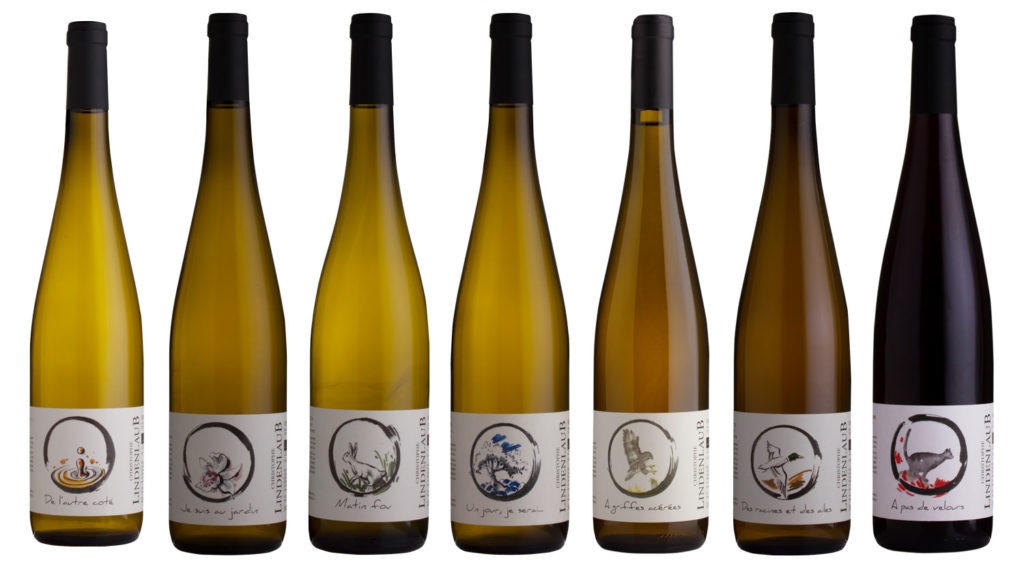 Lets list the currently available wines, as there are a cool twelve to reference. We will leave the list in French to keep it mysterious. The label design and the cuveé names all smack of the freshness and purity mentioned earlier. Some of the cuveé names are Almodovaresque.
Sylvaner 2017 – Matin Fou
Auxerrois 2017 – De l'autre coté
Muscat 2017 – Je suis au jardin
Pinot Gris 2017 – Des racines et des ailes
Riesling 2016 – A griffes acérées
Riesling 2016 – Un jour, je serai
Pinot Noir 2017 – A pas de velours
Pinot Noir 2017 – Un air du sud
Gewurztraminer 2016 – Iris de Montbenault
Riesling maceration 2017 – Ela Fanta Citron
Auxerrois maceration 2017 – Ela Fanta Orange
Pinot Gris PetNat 2016 – Avant l'heure
We tasted  several of the bottled wines in December 2018 and have also included some notes from earlier years. All zero-zero wines, no chemical intervention in the vineyards and no additions in the cellar and no filtration.
The white wines go through a slow press of around twelve hours before the juice is settled in the stainless steel tanks. The three maceration wines go through 2 to 3 weeks of skin contact, depending on fruit quality and harvest conditions. The Pinot Noirs are macerated for 8-10 days, with daily remontage (pumping-over) of the Un Air Du Sud cuveé to encourage the substance and body of the wine.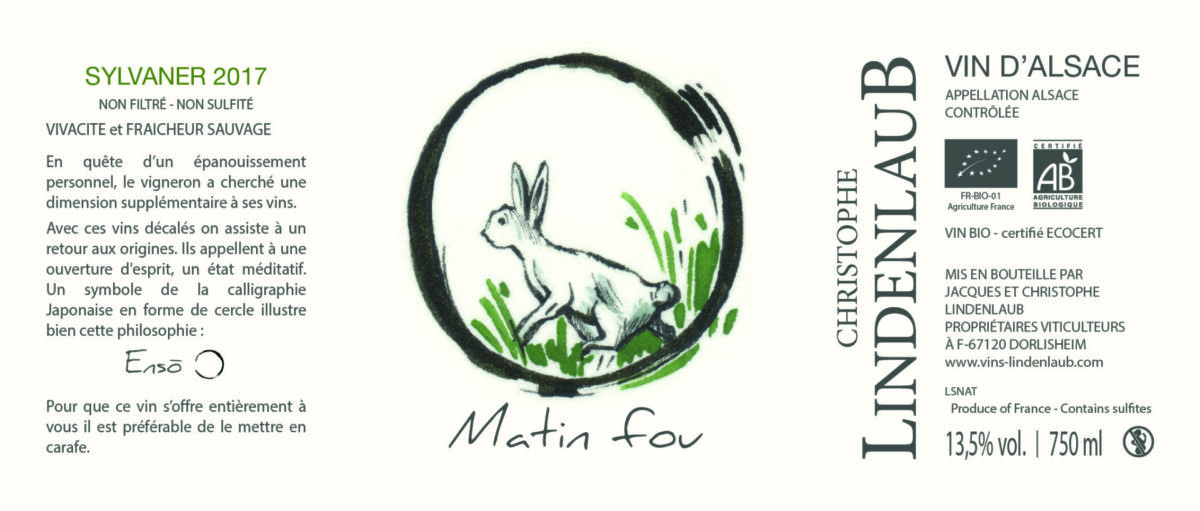 Sylvaner 2015 – Matin fou (crazy morning)
Delicate summer fruit and flowers on the nose, with white fruit, touch of quince and pears on tasting. Nicely balanced with good acidity and a lively fresh and dry finish. A wide-awake wine at the super fresh end of the spectrum of well made Alsace Sylvaner. And this comes just north of that Sylvaner heartland in Mittelbergheim.
2017  Sylvaner – Matin Fou  – Clear with a pale lemon/orange color. Lots of summer fruit and a bit of reduction on the nose. A certain roundness with crunchy green pears on the dry finish.
Auxerrois 2015 – De l'autre coté (from the other side)
Super clear. A cashew, mineral clean aroma, with ripe white fruits and a lovely saline touch on the dry finish.
2017 Auxerrois – De l'autre coté – Again super clear with that sort of fresh, cashew touch with a hint of green hay. Ample and round on tasting with good salinity.
Muscat 2016 – Je suis au jardin (I'm down in the garden)
Just newly bottled when tasted, so a bit closed up.  Still, typical table grapes on the nose, a menthol touch on tasting and an interesting fluidity that went with the dry finish.
Riesling 2015 – A griffes acérées (sharp talons/claws)
Light gold in colour. Nice balance and finesse coming through from the sandstone with good acidity and a certain weight. Super dry finish with an edge of salinity.
2016 Riesling – A griffes acérées – Almost no colour and very clear. A touch of the Riesling petrol on the nose with good acidity/fruit balance on tasting. Quite croquant for a Riesling, with a long dry finish.
Pinot Gris 2014 – Des racines et des ailes (the roots and the wings)
Mid gold colour, round and suave, subtle exotic fruits, enough acidity to provide a bit of tension with a tram of salinity on the finish.
2017 Pinot Gris – Des racines et des ailes – Super round and ample on tasting, with a touch of viscosity. A slight smokey, gingerbread spice finish.
Gewurztraminer 2016 – Iris de Montbenault
This went through 25 days of maceration and resulted in a dark gold colour. Super tart like marmalade with a spicy undertone. Complex aromas and tastes of faded flowers/roses. Utterly delicious, and tasted from the tank pre bottling, at around eight months.
Pinot Noir 2017 – A pas de velours – All ripe griottes on the nose and a round, suave, velvety weight with a touch of that summer Pinot Noir pepper.
Pinot Noir 2017 – Un air du sud – Deep red and super fruity on the nose. Some tannin showing through but delicate and round with it. A surprising level of salinity for a Pinot Noir. A wine that will definitely develop during the next 5 years.
And now these maceration wines, the Ela Fanta's. The kind of fantasy cuvées that shake and rattle any Alsace wine preconceptions. Both wines were tasted just after transport and were a bit on the lively side.
Riesling maceration 2017 – Ela Fanta Citron – washed out copper colour in the glass. Definite lemon and grape fruit aromas. Citrus peels on tasting, great acidity and a big saline finish.
Auxerrois maceration 2017 – Ela Fanta Orange – nice clear orange colour in the glass. Super fresh, nice acidity with an ultra dry finish.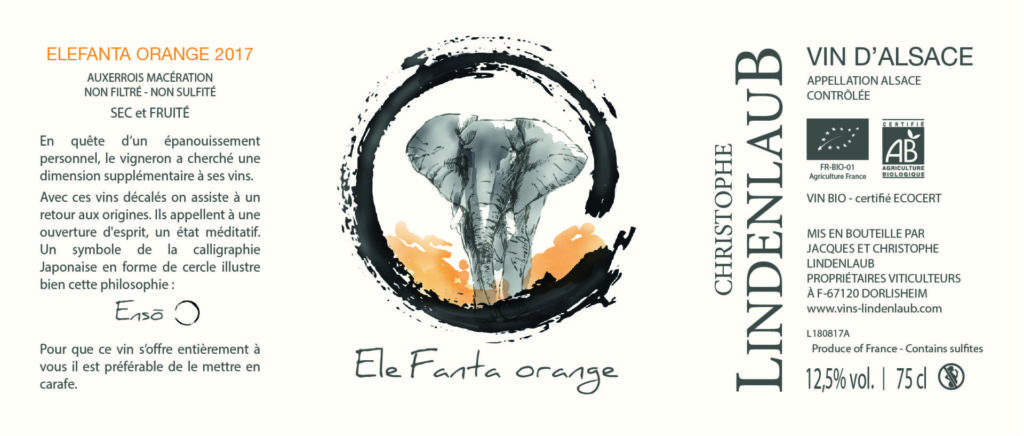 The 2017 wines were tasted from the bottle in late December 2018. The "onerous task" took place with a bunch of friends at the Cheribibi Restaurant and Wine Bar in Biarritz.
Christophe Lindenlaub is one of these Alsace winemakers who is producing wines for a new public. The new wine drinking public, international and curious about whats in their glass and where it comes from. We adore the modern approach and the touch of fantasy he brings to his range of wines.