LES DEUX SALONS – VINS LIBRES et BRUT(ES)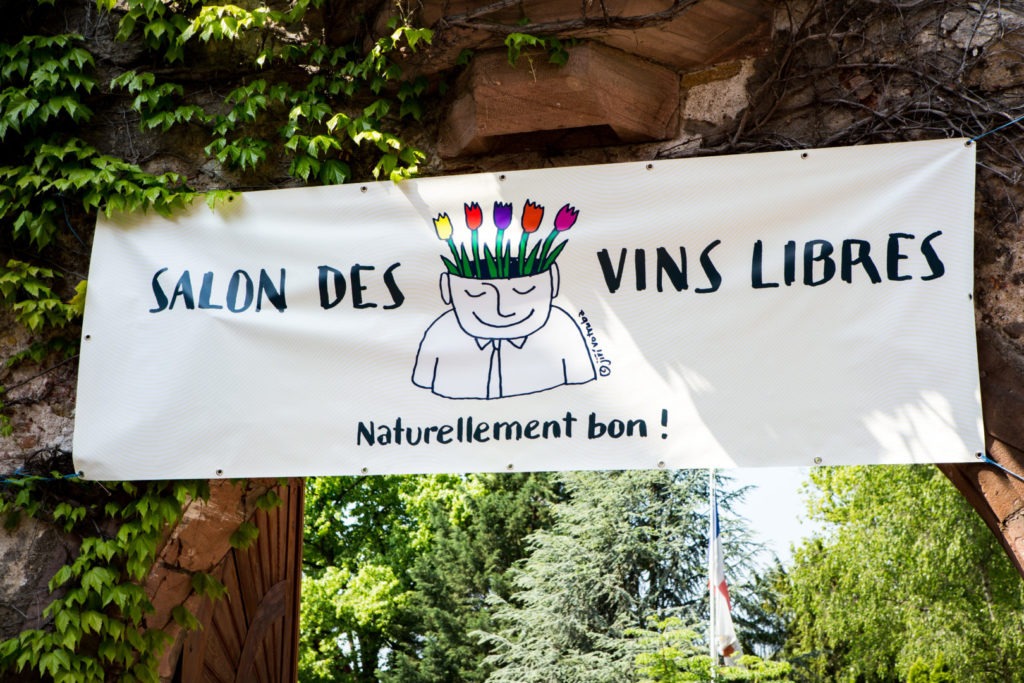 A pulse indicator, a health check, probably more relevant to say a rain check, that's how to register two Alsace Natural Wine salons hosted in 2018.
It's a sign of the (wine) times for this to happen and for it to come from two different core groups of organisers. Its very much Natural Wine, alive and kicking in Alsace.
The Salon des Vins Libres, a bi-annual event, opened its doors for its 6th edition in May. Staged in a sultry, late spring atmosphere, at the Confrérie Saint Etienne in Kientzheim. The salon has been going since 2008, organised by a group of Alsace winemakers referred to as the 4 mousquetaires, the gang of four and their partners – Jean-Pierre and Chantal FRICK, Patrick and Mireille MEYER, Bruno and Elena SCHUELLER and Christian BINNER and Beatrice Binner-Cottin.
The format is a showcase for 35-45 French winemakers plus a handful of Spanish and Italian winemakers, and of course the four Alsace organisers. To cope with the growing band of Alsace natural wine makers, an "off" was held at the 2016 salon with a dozen domaines pouring their cuveés. That "off" grew to 25 Alsace winemakers for the 2018 edition. This expanding group also provided an influx of ideas and energy and "volunteers' for the organising committee.
Photographs from the Kientzheim weekend by Benoit Cortet from the Back In Alsace project.
Details and more information from the Vins Libres Salon here
We also have an interview with Patrick Meyer talking to Back In Alsace here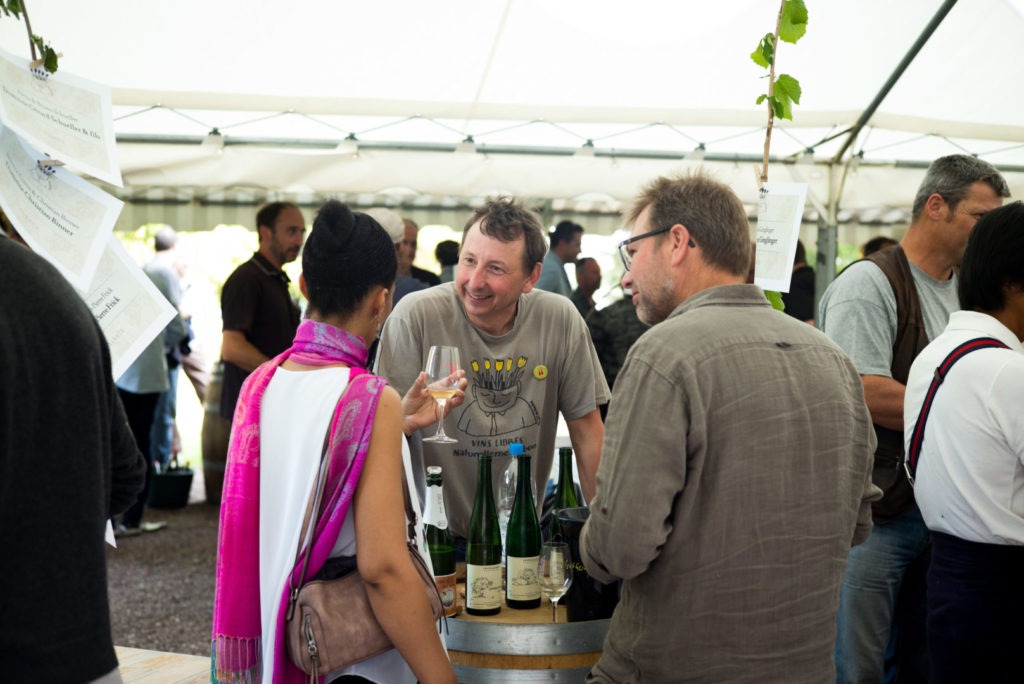 Jean-Francois Ginglinger enjoying some opinions on his wines

inside with the "international" winemakers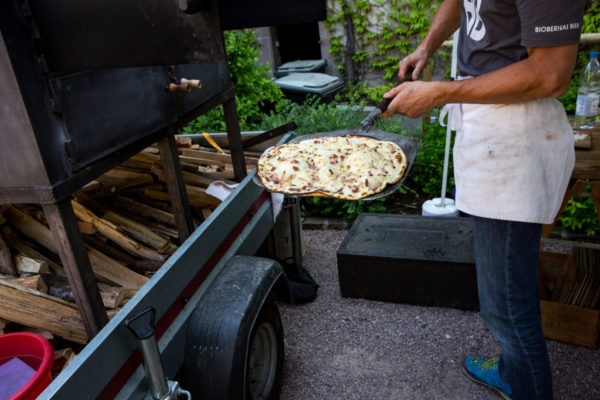 Tarte Flambée – version bio and mobile

a serious selection of wines at the bar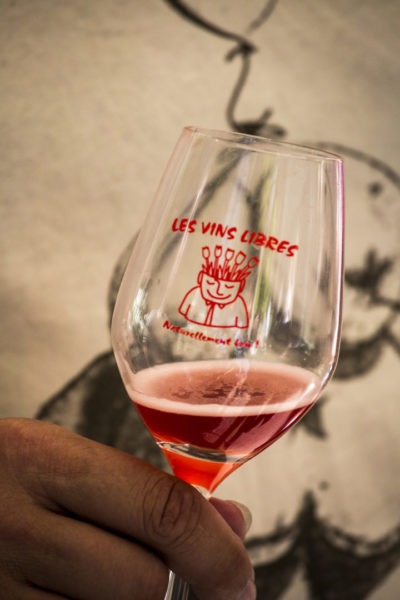 Les Vins Libres – magical marketing
The SALON BRUT(ES)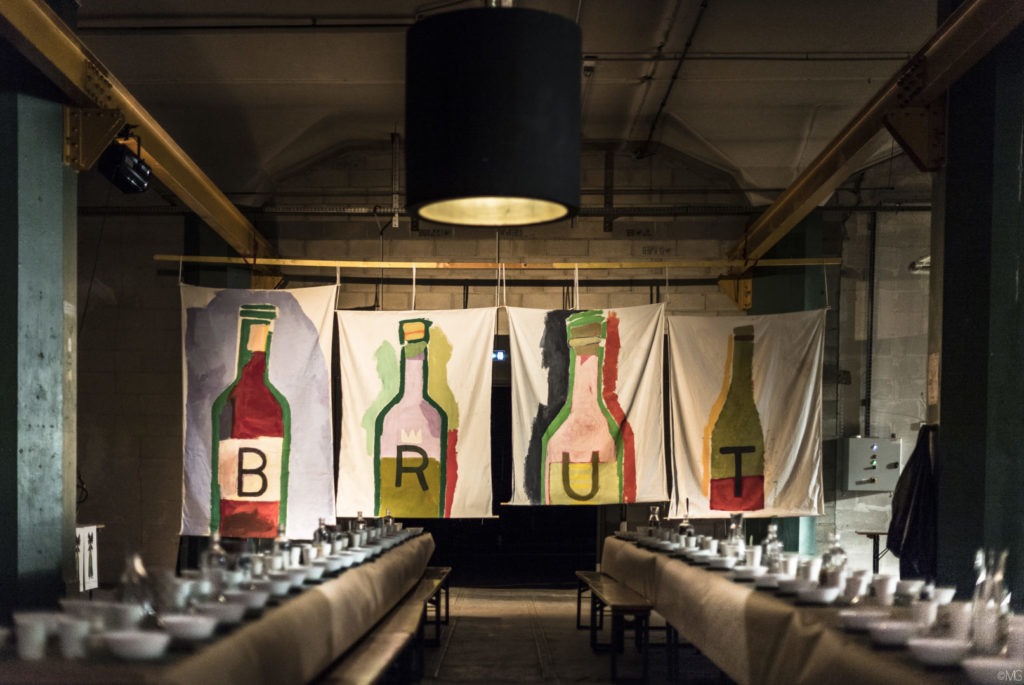 In November the first edition of the Salon Brut(es) popped up in Mulhouse. Hosted in the post industrial Motoco 75 building, now converted into a creative arts centre. Again, a gang of four was involved in putting this together; Jeff, Eric, Bruno and Paolo. We spoke with Jeff Hurth and he explained the driving force for the initiative was a love of natural wine and a big interest in the philosophy and approach of the winemakers. The idea was to put on an event with an EAST attitude. Meaning East of France, Austria, Germany, Switzerland and further afield. The winemakers were obviously the heart of the event, and added to the mix was a dinner, an organic food market, talks, artisan beer makers, a library corner, music, a kid's corner, plus constant food and coffee on offer. It turned into a cool, weekend winter fair. Plans are in place for a repeat event in 2019 with even more emphasis on looking east.
Ten Alsace domaines set up their stands amongst the 40 winemakers who participated.
Bruno Schueller
Jean Marc Dreyer
Christian Binner
Jean Francois Ginglinger
Patrick Meyer
Jean-Pierre Rietsch
La grange de l'oncle Charles – Jérôme Francois et Yann Bury
Pierre Frick – Jean-Pierre et Chantal
Clos Liebau – Sébastien Schwach
Les Vins Pirouettes – Vanessa Letort (adventure collective)
Lots more info from the sparky, well set out website here
BONUS – you can toggle to the English version.
Photographs from Salon Brut(es) – many thanks to Marc Guenard at marc.guenard.fr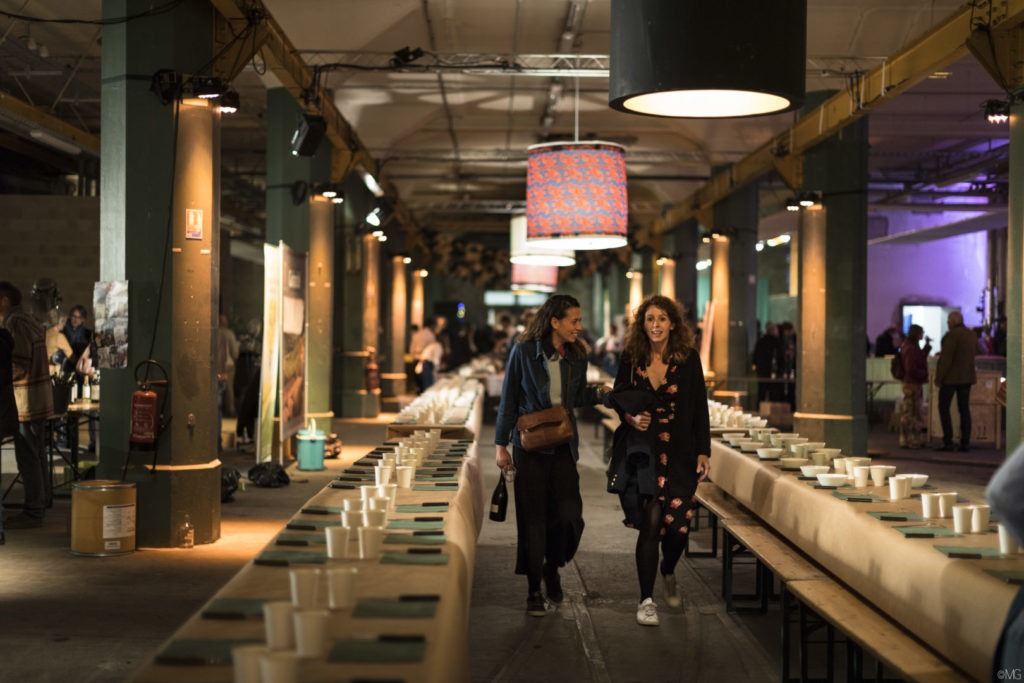 salon dinner all set out and ready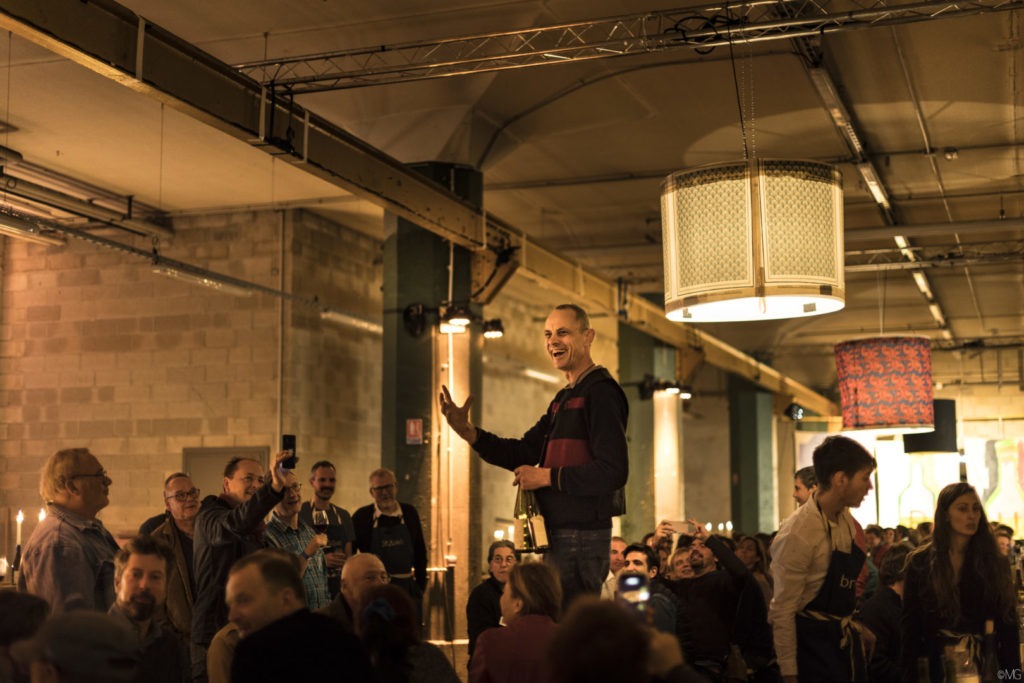 Jean-Pierre Frick waxing lyrical at the salon dinner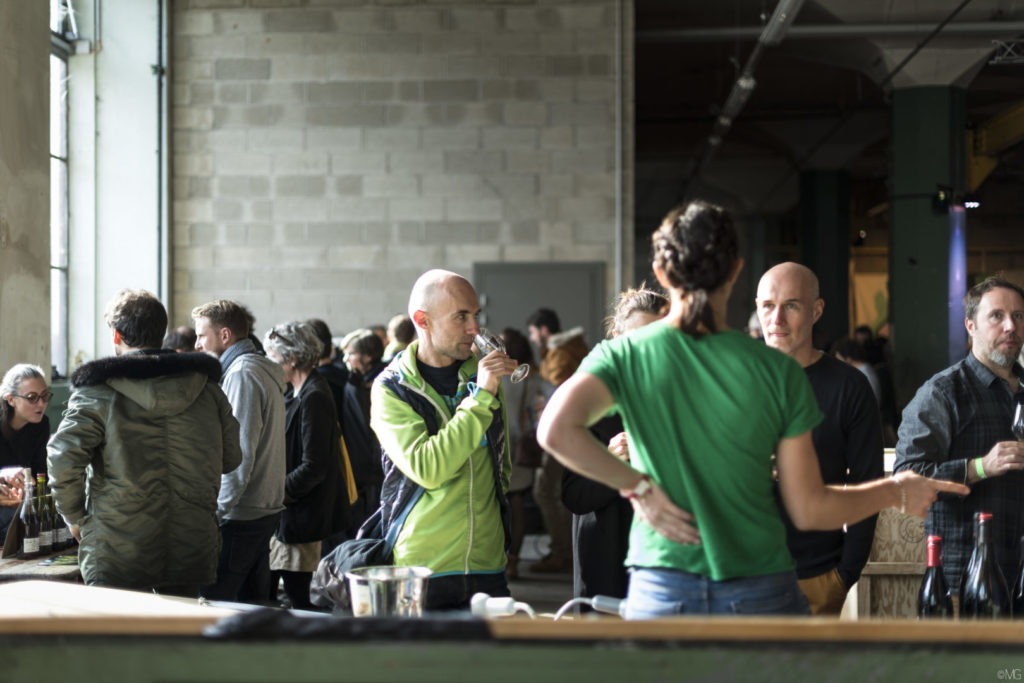 green wine, green tops, green wristbands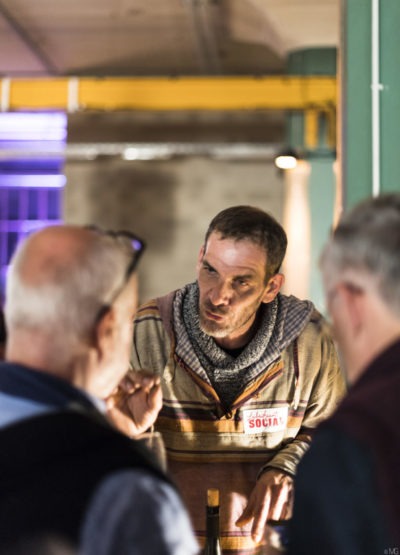 Jean-Marc Dreyer on a fine point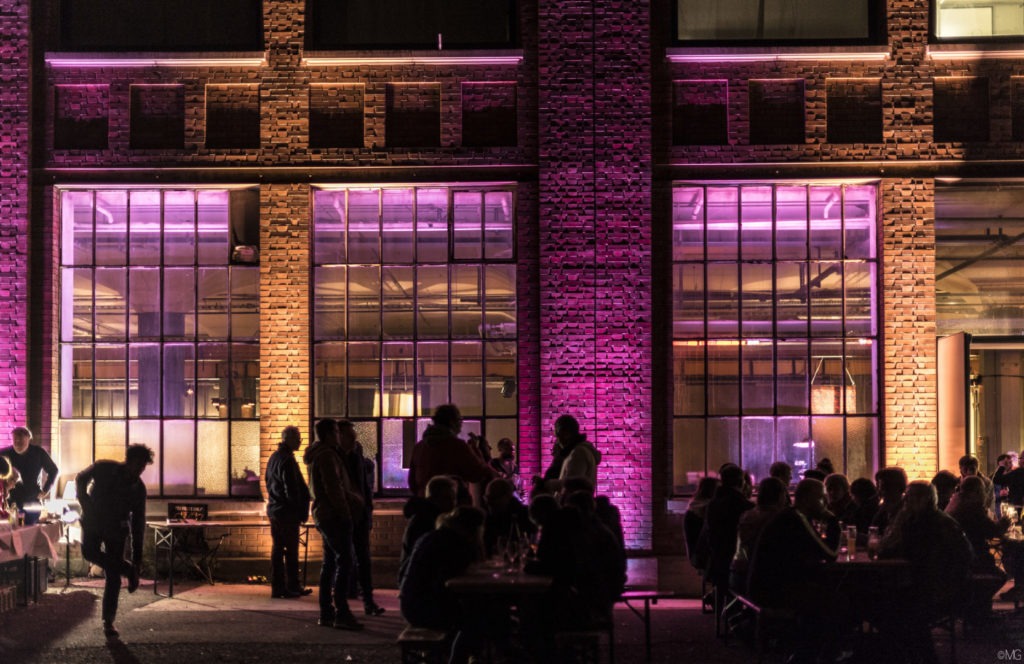 natural wine and post industrial ambiance